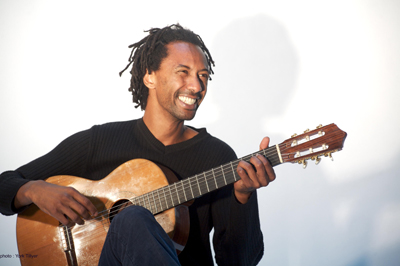 New York, USA – World music festival and showcase globalFEST returns to
New York City in January of 2006. This year it has expanded to a two-night event. The festival takes place Saturday, January 21 and Sunday, January 22, 2006 at The Public Theater, with the same 13 acts performing each night.
The event is the creation of three of the United State's premier world music concert presenters: Maure Aronson of World Music/CRASHarts (Boston), Bill Bragin of The Public Theater (New York City), and Isabel Soffer of World Music Institute (New York City). The three teamed up in the face of the post-9/11 economic and political climate which threatened to dampen U.S. touring of international acts. Two years of sold-out crowds demonstrated that the demand for global music has not abated."For the past two years, we had more demand than space at the festival," explains Aronson. "And even those that did get in wanted to see more. So we are going to two days and expect that some people will come back the second night and catch what they may have missed."
This year globalFEST features artists representing a wide diversity of cultures, traditions, and aesthetics: Mauritania's Daby Touré, French flamenco guitarist Juan Carmona, Keren Ann, Cape Verde's rising star Lura, France's Las Ondas Marteles. Club, Senegalese hip-hop crew
Daara J, Brazil's mangue-beat experimentalist DJ Dolores, Persian/Indian electronic act Niyaz, Frank London's Klezmer Brass All Stars, Cajun masters Steve Riley and the Mamou Playboys, Balkan Beat Box, Roxane Butterfly's Worldbeats, and Russian art-rock innovators Auktyon.
The diverse tastes of audience members will be met with 45-minute sets performed on three stages at The Public Theater: Joe's Pub, the Anspacher Theater, and Martinson Hall. Concert-goers pay one price for an evening-long festival of contemporary and traditional music from around the globe, with discounted tickets available for audience members who purchase tickets for both nights.
"People who just want to see their artist for an entire evening are not the primary audience for globalFEST," says co-founder Isabel Soffer. "It's for people who are very open-minded, and that's what we've geared it to."
Since its 2004 launch, globalFEST has served as a beacon for international musicians hoping to boost their presence in North America. The festival seeks to showcase artists for fans and impresarios alike. Scheduled to coincide with the annual Arts Presenters conference—a performing arts event where most North American performing arts centers and festivals book their coming seasons—globalFEST
identifies artists on the cusp of success here and gives them a springboard for further accomplishment on the touring circuit.
"We are combining a festival for fans with a showcase for the performing arts field," explains co-founder Bill Bragin. "Already with globalFEST still months away we are seeing an impact on the field. Two previously unsigned artists—Auktyon and Niyaz—have secured national representation based on their participation this year. We're excited to see what other success stories will
come out of this year's event."
For the third year in a row, globalFEST is presented with support
from The Cultural Services of the French Embassy, recognizing France's pre-eminent role as a hotbed for world music activity. In addition to providing financial support for the production of the showcases, artists who have French productions, regardless of their national origin, are also eligible for subsidies to support their travel to participate in this important event. Emmanuel Morlet, the director of the music department of the French Embassy, commented, "From its inception, we have been proud to participate fully in the support of this event, which carries a much-needed message of cultural diversity. It is gratifying to see the event continue to expand, and to see the positive impact globalFEST has had on the field."
"As a result of participating in globalFEST 2005, Paris Combo received a number of performance offers from presenters in the US, Canada, and even Australia," says world music booking agent Bill Smith of Eye for Talent. "And Les Yeux Noirs was introduced to many new presenters at globalFEST 2004 which resulted in stronger tours in the following year."
globalFEST is part of the annual Arts Presenters (APAP) conference and is sponsored by The Cultural Services of the French Embassy to the U.S. with additional support from the French Music Export Office and the AFAA. globalFEST is additionally made possible by the support of the participating artists, and their record labels and booking agencies.
Author:
World Music Central News Department
World music news from the editors at World Music Central