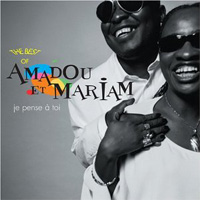 Amadou and Mariam
The Best of Amadou and Mariam: Je Pense a Toi (Circular Moves/Universal CIM 7019, 2005)
Their current album, a brilliant patchwork collaboration with Manu Chao called Dimanche a Bamako, is rightly getting a lot of acclaim. But if for some reason you're not up to speed on the previous music of the Blind Couple of Mali, pick up this scorcher of a disc. It's jam full of choice songs from Amadou Bagayoko and Mariam Doumbia's three prior releases and showcases the development of their style (which encompasses West African tradition, Francophone pop, blues-rock, soul and much more besides) to perfection.
This dynamic duo first met at Mali's Institute for the Young Blind in the late '60s and eventually beat considerable societal odds by cementing a bond of marriage and music. The subtitle of this album is also the song that starts things off: "Je Pense a Toi," from the pair's international debut Sou Ni Tile (1998) is a meditative blend of African blues, mournful violin and Indian tabla drums that is only one of many settings in which Amadou and Mariam's voices find a home.
Solo or in tandem, their singing is forceful and flexible, able to handle griot-like wailing, cabaret crooning or soulful sizzle with graceful ease.
Amadou's got some very sharp guitar skills too, having played with the Ambassadeurs du Motel de Bamako for a stretch and building a varied array of chops that gooses every style he and Mariam take on here, including horn-laced funk ("Nangaraba"), pensive trance music ("Mouna"), brassy reggae ("A Radio Mogo")
and Latinized workouts ("Pauvre Type".
It may be premature to think in "best of" terms for these two, since they're likely going to be making great music for years to come. But as a sampler of what they've done up until now, this album is superb. (Distributed by Sunnyside Records.)
Purchase the CD:
Author:
Tom Orr
Tom Orr is a California-based writer whose talent and mental stability are of an equally questionable nature. His hobbies include ignoring trends, striking dramatic poses in front of his ever-tolerant wife and watching helplessly as his kids surpass him in all desirable traits.