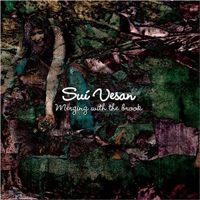 Sui Vesan
Merging with the Brook (World Village, 2006)
Sui Vesan might be called a contemporary Persephone, you know, the Greek underworld priestess that gained wisdom from her hardships and then brought that wisdom back up to the earth. Sui Vesan grew up in Communist ruled Czechoslovakia. She heard Western pop and Muslim sounds for the first time at the age of 14 when her father took her to Syria. This opened up an exploration of world culture and she began vocalizing in a language that she invented, (Tatlanina). Following unpleasant incidents involving official repression, Sui left her music career, married, had children and taught at a primary school. 11 years later, she returned to music with her husband, Rado on guitar and she reclaimed her inner universe, which can only be described as a wonderful kind of strange. And this other world has been officially accepted by the likes of BBC 3, the Jazz Festival at London's Royal Festival Hall, and other international events.
The BBC radio audience has embraced Vesan's music as well, her song Poppy Girl reached number 13 and remained on the British music charts for 6 months. But then, you must remember that England gave birth to the likes of Kate Bush so Vesan's music wouldn't have been completely foreign on British airwaves or ears.
I doubt Sui Vesan ever lived in a proverbial box despite living under Communist rule and repression. Her music and her personality that shines through is on the other side of Neptunian. No doubt, her imagination and connection to the natural world provided many means of escape over the years. Although her biography supplies plenty of comparisons to the likes of other experimental or unusual performers such as Kate Bush, Laurie Anderson, Bjork and Mari Boine, I think those comparisons are used to ground Vesan's work in contemporary reality. Personally, I would like to see a collaboration between Sui and Brazilian diva, Badi Assad, who also seems to speak her own invented language when it comes to composing songs. However, Sui's songs defy any kind of structure. The songs meander like the waterway mentioned in her album's title, Merging with the Brook. The songs are punctuated by liberated and playful vocals, that like a puppy does whatever it pleases. The vocals which alternate between rhythmic and lyrical defy all genres.
There are hints of jazz, folk and even Saami yoiks, but these are just hints, places where the songs reside for a brief moment and then race off in another direction. You can use words like pagan, earth goddess, tribal or primal to describe the vocals, but even those adjectives fall short of the mark. This is the kind of music that gives lazy journalists a difficult time.
I would like to say that the arrangements are simple because the two musicians employ only guitar, kalimba (thumb piano), flute, animal skin drums and percussion, but what the musicians do with this small array of instruments is actually quite complex. Just listening to the first four songs will give listeners an indication that they are listening to music from another planet! La lo la lo sounds like a Saami chant, Shanya features Oriental shimmering guitars, Kalimba features a chiming thumb piano and Breeze in the flute brings in an unearthly fluttering and gossamer.
The entire CD is filled with surprises, right turns that should have been left turns, hills that should have been meadows and a removal of the 7 senses from time and space constructs. Certainly Vesan represents a new kind of performer who not only gets away with doing her own thing, but has taken many people along on her wild, wild journey. Buy your ticket and embark upon this unforgettable excursion. Go where you haven't been before.