Shiv Kumar Sharma & Shafaat Ahmed Khan – The Inner Path (Sense World Music, 2003)
Santosh Nahar – The Golden Bow (Sense World Music, 2003)
British label Sense World Music recently released two live recordings of classical Indian musicians. Recorded at the Saptak Festival in Ahmedabad, India, The Inner Path features Santoor master Shiv Kumar Sharma and tabla master Shafaat Ahmed Khan; The Golden Bow features emerging violinist Santosh Nahar with tabla player Shabbir Hussain (another up and coming talent). Both of these splendid CDs offer listeners a chance to immerse themselves in a
transcendental experience. Shiv Kumar Sharma, the son of Pandit Umadutt Sharma and father of Rahul Sharma acts as an important link in bringing the Santoor [also known as santur] to prominence in Indian music. The Santoor originally hailed from Kashmir and was considered a folk instrument incapable of holding its own within the Indian classical tradition. Shiv Kumar Sharma re-invented the instrument by introducing a series of modifications that increased tonal range and improved the
sustainability of notes thus making it suitable for Indian classical music.
Over the past 40 years Shiv Kumar Sharma adapted all the major ragas and even lesser known ragas to his eighty-seven stringed Santoor. He has collaborated with masters such as Hariprasad Chaurasia and Zakir Hussain while delighting audiences worldwide. He has also composed music for some of India's most popular cinema and he has taught many young aspiring Santoor masters including his son Rahul Sharma.
I saw Shiv Kumar Sharma and Zakir Hussain in concert last spring and I didn't fully appreciate Shiv Kumar Sharma's musical gift until listening to his latest recording, The Inner Path . As I was listening to the CD I could also hear a clock ticking and rain falling on a skylight above my head. And the clock and the rain kept perfect time with Shiv Kumar Sharma's performance. When tabla master Shafaat Ahmed Khan began adding beats on track 3 (Gat in slow teental) I felt that I was surrounded by delicious rhythms. The experience bordered on the mystical.
The CD showcases a virtuoso performance by Shiv Kumar Sharma and tabla accompanist Shafaat Ahmed Khan, who in his own right is regarded as a master of the Delhi gharana. Together these two musicians blend intuition with technical prowess and can easily leave their listeners ecstatic like the enraptured
audience on this recording. The duo performs Raga Kirvani that hails from the Carnatic South Indian music tradition. Shiv Kumar Sharma begins with Alap which is divided into three sections, including Alap, Jor and Jhalla. Then on track 2, he introduces the Jor section with its gentle rhythms and then the Santoor master introduces the lively Jhalla section.
The first gat features slow tabla beats and a fix rhythmic cycle of sixteen beats. The second composition Gat in medium teental picks up the pace while bringing in flowing improvisations that eventually lead to the spellbinding climax. The performance concludes with a musical phrase that is repeated three times and played in perfect unison. The entire performance runs approximately 70
blissful minutes and is sure to convert listeners to Indian classical music. I was hooked during the first 20 minutes and filled with ecstasy by the time the CD concluded. I highly recommend this recording.
Although the violin was adopted from the European musical tradition in the 18th century, its popularity has grown on the sub-continent and is considered the most popular bowed instrument in India today. However, the Indian violinist employs different tuning and plays the violin in a seated position with the back of the violin resting on their collarbone. While this might look uncomfortable
to observers, the music that emanates from the violin is absolutely stunning.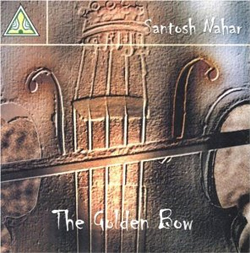 Santosh Nahar is considered one of the most vibrant young
violinists of the North Indian Hindustani style. Similar to many of India's key musical talent Santosh's lineage boasts renowned musicians including his father, vocalist Prahlad Prasad Mishra. After many years of training and practice, Santosh fused the melodic vocal style (gayaki) and the instrumental style tantrakari style. Up and coming tabla player Shabbir Hussain (nephew of Ustad
Hidayat Khan) pairs up with Santosh on this recording. And certainly these two talented musicians have joined the ranks of other young virtuoso musicians coming out of India at this time. It might be an exaggeration to say that an explosion of young talent has occurred on the sub continent, yet that does seem to be the case.
What strike me most about this recording is how I am reminded of young violin virtuosos from western classical music (many of them boasting Asian heritage). It's true that violinist from Indian classical music play with different modes and tunings than their western counterpart, yet I couldn't help but think of the late 18th century Italian composer Niccolo Paganini's work when hearing Santosh
perform a set of ragas. According to the CD's liner notes, "Raga is the lifeblood of Indian classical music. Composed by saints and sages from the times of the Vedas, ragas have been handed down over centuries, through oral tradition that is the admiration of the world." And yet ragas sound familiar to western ears and with a passion to match the work of composers like Paganini.
The ragas possess magical qualities and honor the nature. They reflect different times of the day (morning, noon and evening), the seasons or the many moods that color the human experience. The live CD, The Golden Bow was recorded during an afternoon session at the Saptak festival and produced by Derek Roberts, who had discovered Santosh performing a few days prior. Santosh began the recording with the popular Raga Yaman, a raga that incorporates the western lydian mode and allows room for musicians to improvise. And similar to western jazz Improvisations play a key role in traditional Indian classical music.
Another raga worth noting that appears here is Rajasthani Folk Melody in Raga Mand. This raga reflects the scent of rain and sand dunes as they appear in the Rajasthan desert. Then the recording ends with another popular raga, Bhairavi (regarded as the Queen of Indian ragas) and is a raga that can be performed any time of day, but often appears as a devotional that ends a concert.
Although I am quite fond of this CD, I much prefer Shiv Kumar Sharma and Shafaat Ahmed Khan's The Inner Path. However, having said that, Santosh Nahar and Shabbir Hussain represent the future of Indian classical music. And given their dedication and musical lineage the future of Indian music appears to be promising. And just as another generation of westerners turn their eyes to the sub continent for spiritual and artistic inspiration. There are no accidents, just profound experiences.
(Compliments of Cranky Crow World Music).