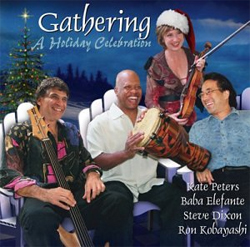 Gathering has just released the new world music holiday CD, "A Holiday Celebration,"which includes guests from the world music scene. Combining diverse instruments such as the Australian didjeridu with Irish pipes, Spanish flamenco with Japanese taiko
drumming, and the Hawaiian ukulele with Caribbean steel drums, all on a backdrop of traditional American jazz, A Holiday Celebration celebrates diversity by exploring the relevance of music as a party to peace.
Gathering is a collection of accomplished musicians that share a common hope for the future of our planet: Kate Peters on vocal and violin, Ron Kobayashi on piano, Baba Elefante on bass, and Steve Dixo on drums and percussion. They believe that "global survival is predicated upon our ability to come together in celebration of our diversity and collective imagination." They have selected music as a tool to nurture learning: learning to appreciate our similarities and differences; learning to love one another; learning to work together, applying our creative energy and talents to build a lasting "better than before".