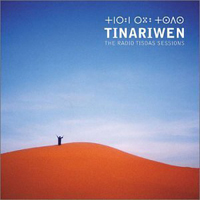 Tinariwen
The Radio Tisdas Sessions
(World Village, 2002)
Blues returning to its African roots can be heard in the Malian nomadic group, Tinariwen's debut release, The
Radio Tisdas Sessions. And unlike many album titles that refer to intangible experiences, the title of
Tinariwen's CD refers to actual recording sessions that took place at a Tamashek radio station between the
hours of 7 p.m. and midnight because that was when electricity was available. But then blues in any form has
never been about convenience or living a lush life. And in fact, the desert blues, a mixture of North African
music with American blues and sung in the Tamashek language, speaks of oppression of a maligned people
(read the CD liner notes). The music here is said to be inspired by Bob Dylan, Bob Marley and speaks out
against human injustice. Actually, I am just guessing since I do not understand the language in which the songs were written.
Tinariwen might be called a tribe rather than a band since ten musicians, including three women backup vocalists appear on this album. Heavy on guitar and vocals, imagine Dylan when he first went electric and you will come close to describing the music on this CD. The Radio Tisdas Sessions was produced by Justin Adams who has also produced Lo'Jo (the group that discovered Tinariwen on a trip to Mali) and also produced Natacha Atlas' CD's. The first track, Le Chant Des Fauves features a lilting melody with Ibraham on lead vocals and is embellished by a female trio. Imidiwaren sounds like good old fashion American blues if it weren't for the Tamashek title and lyrics. Tin-Essako was recorded live at the debut Festival in the Desert that took place in Kidal, Mali January 2000.
If the French group Lo'Jo hadn't met members of Tinariwen on a trip to Mali, the group might have not been
discovered. Well, there is always the chance that Ry Cooder might have met up with Tinariwen at some point, but… And with a large hunger for world music, it is refreshing to hear yet another style of music coming
out of Mali.
Buy The Radio Tisdas Sessions.
Compliments of Cranky Crow World Music.