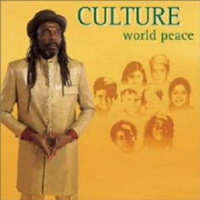 Culture
World Peace (Heartbeat 11661-7764-2, 2003)
"We can't take another war/we want world peace." So sings Culture's Joseph Hill on the title track of this album. An obviously simple sentiment perhaps, but it's that sort of directness that has kept Culture among reggae's most longstanding representatives of excellence for over 25 years. Along with Burning Spear, Israel Vibration and others, Culture has steadfastly refused to dilute their reggae with the dominant modern dancehall style, instead delivering their message of Africa as Zion, Marcus Garvey as prophet and common man as conquering hero in the same manner as always. That is, in the same true roots style that Bob Marley brought to the world and that many in the world still thankfully have a passion for.
Don't get the impression that Culture is stuck in some kind of '70s time trap, however. On this disc of all-new material for the Heartbeat label (most of whose previous Culture releases have been reissues), the sound is clean and modern but still right and tight. Real bass and drums and layers of bubbling keyboards, guitars, horns and percussion carry the day. Vocally, things are at maximum niceness as well, with Hill pleading for the likes of "Sweet Freedom" and "No Segregation" backed by an enhanced chorus of voices augmenting the group's usual harmony trio configuration.
Culture continue their knack for remaking past songs, here giving their "Dog A Go Nyam Dog" a more aggressive bassline and a greater urgency. That urgency is echoed in many of the songs, but it's the duality of the final two that really spells it out: "Babylon Falling" warns of the destruction that awaits the wicked, while "Holy Mount Zion" assures the righteous of the eternal abode to come. Both songs are built on a framework of spirited nyabinghi drumming, and are a fitting wrap-up to an album that delights in (and on all counts succeeds in) keeping the true reggae fire blazing.
Buy World Peace
Author:
Tom Orr
Tom Orr is a California-based writer whose talent and mental stability are of an equally questionable nature. His hobbies include ignoring trends, striking dramatic poses in front of his ever-tolerant wife and watching helplessly as his kids surpass him in all desirable traits.