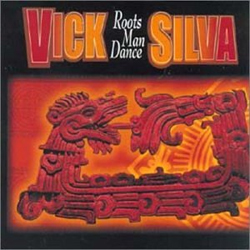 Vick Silva
Roots Man Dance (Rhombus Records)
Los Angeles based Chicano musician-producer Vick Silva offers 11 tracks of Aztec-influenced reggae on Roots Man Dance. The reggae for the most part resembles the Jamaican variety with the exception of lyrical themes that revolve around Aztec mythology and ancestral roots. And the use of Aztec instruments such as a jaguar gourd horn, Teponaztli, flutes and Kikiztli compliments of musician Michael Heralda add a unique spice to the mix. The tunes possess the right groove with a sunny message for Chicanos and other races in touch with their culture. And for those folks, who prefer the traditional reggae with wailing saxophone solos, call & response vocals, organ, guitar and a strong reggae beat will find this recording enjoyable.
Vick works with a number of musicians and back up vocalists. All the musicians prove adept on their instruments and vocal abilities. The songs don't miss a beat and the lyric ring out spiritual and cultural messages that are universal in scope. Vick and his musicians deliver reggae tunes at a moderate tempo with easy beats and suave vocals. However, I find that the songs flow all too well into one another and stripped down instrumentation, such as a track that features only voice, guitar and light percussion would have been a nice change of pace half way through the recording. I am thinking of Bob Marley who would throw in an acoustic ballad such as Redemption Song to add musical diversity.
However, for those reggae fans seeking catchy choruses and impassioned phrases, Quetzal Dragon, People of the Sun, Second Wind, Heaven n ' Earth, and Possibility should do the trick. "49" offers a respite from the wailing saxophones and We Are plays as a social anthem that incites Chicano pride. Vick slows things down a bit on Teotihuacan that falls into a sort of trance enhanced by haunting flute. Roots Man Dance proves to be a sincere effort from a group of musicians dedicated to keeping reggae and Aztec roots alive. For more information go to www.rhombus-records.com
Compliments of Cranky Crow World Music.
Buy Roots Man Dance.