Inberoamerican Music Expo (EXIB) organizers were forced to move the outdoor showcase venues to the historic Teatro Garcia de Resende. The beautiful renovated theater turned out to be an excellent space to experience the live performances.
The first act on stage was La Colectiva Corazón, a multinational group of graduates from the Berklee College of Music – Valencia, Spain Campus. The collective plays what they describe as cumbia fusion. Bear in mind that it's Chilean cumbia along with guajiras, boleros, funk, Andean music, and pop. Think of Chico Trujillo mixed with Manu Chao.
The slow dance beat immediately got members of the audience dancing (primarily women). The band brought a dance party atmosphere to Teatro Garcia de Resende and the performance was very well received.
La Colectiva Corazon was created by Chilean composer, vocalist and percussionist Gonzalo Eyzaguirre. The ensemble includes musicians from Puerto Rico, Slovenia, Ecuador, Colombia, Italy and the United States. La Colectiva just released its debut album titled "Viajero."
The band included Gonzalo Eyzaguirre on vocals, charango and percussion; Travis Smilen on electric guitar; Sebastián Laverde on congas; Carlos Llido on drums and timbales; Eric Benavent on saxophone; Alfonso Benavent on trumpet; and Javier Giner Garrido on bass.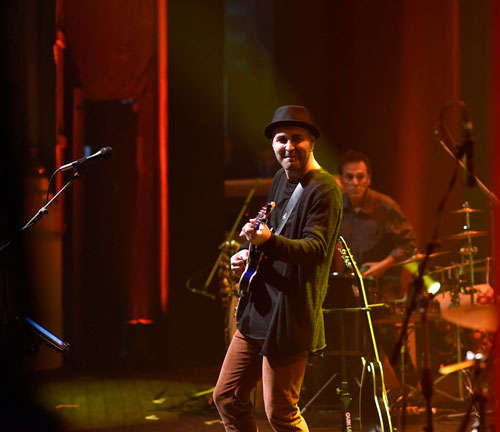 The second act was Portuguese singer-songwriter and guitarist Luiz Caracol. He's a talented artist who combines the rhythms of Portugal with jazz and the music of African countries, Brazil and the sounds of Jorge Drexler.
Luiz Caracol has a captivating laid back song style supported by his rhythmic electric guitar and a fabulous rhythm section that includes a percussionist from Brazil and a West African drummer.
Caracol was born in Elvas right after his parents arrived from newly independent Angola, where they had lived before the African nation became independent. Luiz Caracol released his first album, Devagar, in 2013. Devagar includes special guest performances by Fernanda Abreu, Sara Tavares and Valete. He's currently recording his new album titled Metade, scheduled for release later this year, in 2016.
Concert lineup: Luiz Caracol on guitar and vocals; Chico Santos on bass; Miroca Paris on drums; and Ruca Rebordão on percussion.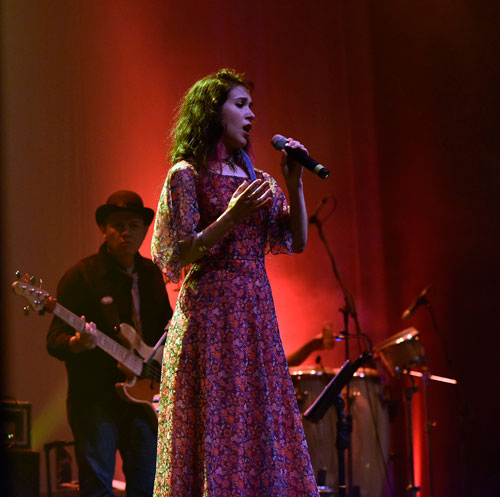 Mexico was represented by vocalist Zaira Franco. Zaira's show crossed numerous musical boundaries. She was accompanied by a rock band and delivered a mix of Mexican music, boleros, funk, Afro Cuban sounds and rock. The band's electric guitar player was impressive, releasing fiery solos using various types of techniques. At one time, Zaira's band went into full blown progressive rock. Zaira Franco presented her latest album, Tumbalá.
Showcase lineup: Zaira Franco on vocals; Mario Patrón on piano; Federico Erik Negrete on bass; Alfredo Martínez on guitar; Fausto Aguilar on drums; and Luis Manuel García on percussion.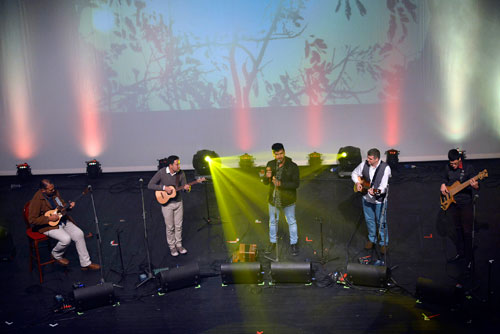 The fourth act was truly spectacular. Undoubtedly, the highlight of the entire event. C4 Trio is an award-winning ensemble of three Venezuelan cuatro players along with a bassist.
C4 Trio are highly skilled musicians who demonstrated virtuosity, creativity and delivered a captivating and fun show featuring ensemble pieces, solos and interplay. The repertoire included Venezuelan folk songs as well as pop standards played at dazzling speeds. The group received repeated standing ovations and was the only act that came back for an encore.
The C4 Trío lineup included Jorge Glem on cuatro; Héctor Molina on cuatro; Edward Ramírez on cuatro; and Gustavo Márquez on bass.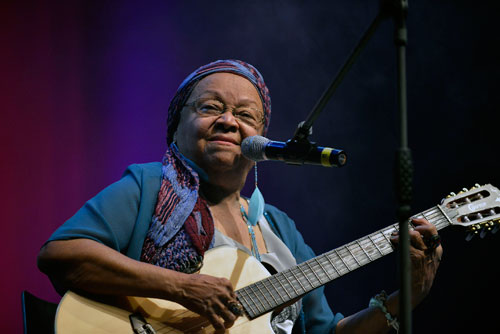 The closing act was 78 year old Brazilian vocalist and guitarist Dona Jandira. The charismatic performer started her career in 2004 after she met producer José Dias.
Lineup: Dona Jandira on vocals and guitar; José Dias Guimaraes de Almeida on bass and Eugenio de Castro Ribeiro on violin.
Headline photo: La Colectiva Corazón, courtesy of EXIB Música
Related articles:

The Passionate Music of Alentejo, the Focus of EXIB 2016 Opening Concert
Three Continents Represented at EXIB 2016 Day 1 Showcases
The Diverse Sounds of Iberia, Mexico and Cuba at EXIB 2016 Day 2 Showcases
Related links:
La Colectiva Corazón
Luiz Caracol
Zaira Franco
C4 Trio
Dona Jandira
EXIB Música