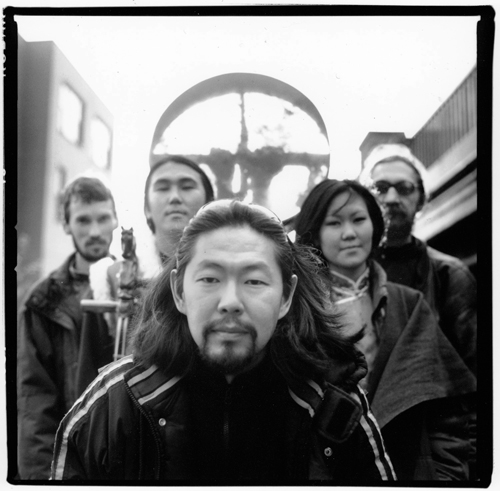 Yat-Kha started in 1991 in the hyper-industrial Siberian steel-belt city of Boris Yeltsin's then home-town of Sverdlovsk. Albert Kuvezin – taking a holiday from the attentions of the KGB and ideology department of the Tuvan Communist Party – found himself in the middle of a perestroika/ glasnost-induced spring-thaw punk rock explosion.
Home-made bands across the Siberian hinterland, with their acerbic lyrics and free-thinking attitudes transformed the grim Soviet music scene. Albert's contribution was a cassette, "Priznak Gryedushi Byedi," the only cassette copy of which he has lost.
On return to Tuva, Albert got involved with many other young Tuvans interested in rock, throat-singing and Tuvan music and went on to found Kungurtug (the rockier version of what is now Huun-Huur-Tu) which featured Alexander Bapa and his brother Sayan Bapa plus top khoomei singers Kaiga-ool Khovalyg and Aldyn-ool Sevek. With some help from one experimental Swedish festival in 1992 this group played a few gigs until feeling a bit trapped inside what became a more folkloric style, Albert decided to spend some time in Moscow for a few years and see what might happen.
When he performed at the Alma-Aty festival Voices of Asia, one particular judge, Brian Eno was so astonished that he invented a special prize for Albert's unique double-bass voice and its mixture of thunderous growling and high harmonics. Albert then made a CD "Antropofagia," an experimental electro-Tuvan CD with Russian keyboardist Andrei Sokolovsky which came out on General Records (Moscow) which first came out as a cassette "Khan Party".
But at the same time Albert was getting more and more involved in exploring the borders between Tuvan traditional music instruments and western rock electricity with Tuvans. After a performance at the Berlin BID in 1992, various small festivals were quick to recognize that Yat-Kha was a bit different.
The Potsdammer Abkommen, Sfinks and other progressive festivals brought Albert over to Europe but it was not until WOMAD at Helsinki (line-up: Jah Wobble Transglobal Underground, Natacha Atlas, Shriekback and Wimme) organized by GMC Helsinki that a recording was made. This was the 1995 CD "Yenisei-Punk" which was recorded with 2 microphones and a 1″ tape machine in GMC's global mobile studio with help from Kari Hakala and Martijn Fernig.
Yenisei-Punk had Alexei SAAIA on morinhuur and (normal) voice. Much to everyone's surprise this CD went into the world music charts Europe and won various prizes – RFI, Grand Jury for Decouvertes and #1 MIDEM lo-fi video (dir. Gerd Conradt). Yenisei-Punk was re-mastered and re-released by GMC in 1999 with 2 extra tracks featuring Kan-ool Mongush on morinhuur and voice. But tough times meant the band scraped along as their "impure" style of music confused many.
As Albert was being evicted from his Moscow flat, their UK producer, manager, engineer, driver and temporary bassist Lu Edmonds landed the band a surprise record deal.
Yat-Kha signed in 1998 to Wicklow Records – brainchild of The Chieftains pipe-player Paddy Moloney and the CD "Dalai Beldiri" came out. After a long time apart Albert was joined again by Aldyn-ool Sevek on khoomei vocals. Percussionist Zhenya Tkachov also participated.
Alexei Saaia again joined the band for touring and they went to the USA and Europe 3 times in 1999 played at WOMAD Reading. They also got the attention of such bands as Asian Dub Foundation and Transglobal Underground (who remixed a track for a Wicklow compilation). Later in 1999 they played WOMEX in Berlin and toured with British folk-rock legends Oysterband. All this helped to generate more critical press acclaim.
Yat-Kha's year 2000 started in March with a USA tour as special guests of The Chieftains. A new CD "Aldyn Dashka" (the golden cup) was also finished. That year Yat-Kha added bass player Mahmoud Skripaltschchikov and a young 19-year old female singer named Sailyk Ommun.
In 2001 Yat-Kha released Poets and Lighthouses recorded on the Scottish island of Jura.
Discography:
The Spector of Disaster (1989)
Antropophagia (General Records/Moscow 1993)
Yenisei Punk (Global Music Center 1995)
Dalai Beldiri (Wickow -BMG Classics 1998)
Aldyn Dashka (Yat-Kha Records 2000)
Live in Europe 21 (Yat-Kha Records 2001)
Tuva.Rock (Yat-Kha Records 2003)
Re-Covers (Yat-Kha Records/World Village 46861 2005)
Live in Europe 2005 (Yat-Kha Records 2005)
Live at Meltdown festival in London 2005 (Yat-Kha Records 2010)
Poets and Lighthouses (Yat-Kha Records 2010)
The Ways Of Nomad – The Best of… (Yat-Kha Records/Sketis Music 2010)