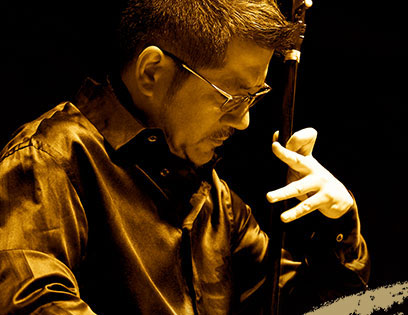 Xu Ke was born in 1960 in Nanjing, China. He received his B.M. in 1982 with honor from the Department of National Music at the Central Conservatory of Beijing, where he studied under the erhu master Mr. Yusong Lan. He was the principal Erhu player of the China National Traditional Orchestra in 1983.
In 1986, he toured the United States as the music director of a good-will Chinese music delegation. His solo debut performance in 1987 with the China National Traditional Orchestra in Beijing Concert Hall caused a great sensation in China, prompting the media to dub him a genius Erhu player.
Since 1987, he has been performing as a soloist with many orchestras throughout the world. The superb technique, deep understanding and! exciting interpretation of the erhu repertoire has earned Xu Ke an international following.
Xu Ke is the first erhu master in the world to record under the RCA label. he participated in the album Something ~ RCA Artists Meet The Beatles. He also received a platinum disc award from the Hong Kong recording industry in 1992.
Invited by Yo-Yo Ma, Mr. Xu participated in the Silk Road Project in July 2000 at the Tanglewood Music Center. Xu Ke joined with Yo-Yo Ma and the Silk Road Ensemble for an Asian tour to perform at Hong Kong Arts Festival, Beijing, Shanghai, and Taipei in March 2001. He was also the artistic director of Silk Road Music concert in the 17th Tokyo Summer Festival.
Xu Ke has released solo and ensemble albums, including classical music played by Erhu, Cello, Piano.
Discography:
Maiden Mo Chou – A Fantasia (Pacific Audio/Video Co., 1988)
Song of the Birds (Sony Japan Family Club, 1997)
Sweetie (BMG Japan, 1999)
A String of Melodies (BMG Pacific, 1991)
The Yellow River/The Butterfly Lovers (BMG Pacific, 1992)
Melodie Favorite Violin Showpieces Performed on Erhu (BMG Victor, 1992)
My Way rhu Favorite Collection (BMG Victor, 1994)
Wind and Rhythm/Erhu Concertos (BMG Victor, 1994)
Zigeunerweisen-Erhu Classical Favorites (BMG Victor, 1996)
Elegy – Erhu Solo (BMG Victor, 1996)
Lullaby (BMG Japan, 1997)
Liebesfreud (BMG Japan, 1997)
Erhu Favorite Chinese Pieces (BMG Japan, 2001)
Erhu Favorite European Tunes (BMG Japan, 2001)
Horse Racing (XUA Records, 2003)
Liebesleid (XUA Records, 2004)
Think of Chinese Music of the New Era (XUA Records, 2004)
Xu Ke (XUA Records, 2005)
Preghiera (XUA Records, 2009)
Romance (XUA Records, 2009)
Le Rêve – Erhu Classical Favorites (XUA Records)