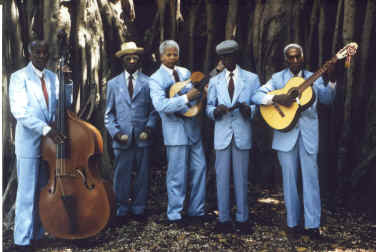 The original Vieja Trova Santiaguera quintet was the living embodiment of a musical tradition with roots in the nineteenth century. The five members of this group had been playing together as Vieja Trova Santiaguera only since 1994, but individually, they were an important part of the history of the bolero and son throughout the twenties, thirties, and forties.
Reinaldo Creagh, on lead vocals and claves, was a member of La Estudiantina Invasora, originally founded in 1927.
Pancho Cobas, guitar, vocals, and chorus, played virtually all his life and was a founding member of, among other groups, the Cuarteto Patria.
Aristóteles Limonta, the bassist, worked with La Orquesta de Chepín, with La Moderna Orchestra, with La Estudiantina Invasora, and the Cuarteto Patria, among others.
Amado Machado, vocals, maracas, and vocal improvisations, was also a member of both La Estudiantina Invasora and the Cuarteto Patria.
Reinaldo Hierrezuelo, tres, flute, vocals, and chorus, comes from a musical family, was one of the founders of the Cuarteto Patria, and played with Los Compadres – and virtually every other great musician in Cuba.
Vieja Trova Santiaguera was formed as a result of jam sessions at the Casa de la Trova in Santiago de Cuba, attended by an ever-changing and always exciting relay of musicians. They were first recorded as a group for a film documentary about Caribbean music, and shortly thereafter were invited to tour Spain, which resulted in this recording for Manuel Domínguez's acclaimed Nubenegra label. All five had been retired from both regular musical performance and from their 'day jobs' (only Hierrezuelo was able to make a living playing music full time), and were living on their pensions. But the inspiration of playing together, of introducing whole new audiences to boleros, sones, guarachas, and cha cha chas as traditionally performed, undiluted by American influence, was enough to convince all five that retirement was boring. It's clear that all of them were having the time of their lives, as one reporter wrote, "like five little boys with brand new shoes."
While young musicians, both in Cuba and elsewhere, are again making music from the trova tradition a part of their repertoire, Pancho Cobas noted in an interview with El Diario in Spain that the "traditional trova is totally different from contemporary trova. To play traditional music, you have to be born to it, to have the right flavor; not everyone can play traditional music, because it's not something that can be learned. There are young trovadores who have studied the music, but they haven't reached into the essence of vieja trova. You have to be born, like the son montuno, in the country. The best musicians come, like the trova itself, from Santiago de Cuba."
"Even though the songs we sing were created fifty years ago," said Hierrezuelo in an interview in Spain, "they are certainly not old songs; good music never gets old, it's those who sing it who grow older." They approached the rhythms of their native Cuba "simply, feeling it with our hearts," and believed that traditional music is still alive and well in Cuba, despite having heard otherwise. They themselves rejected what Hierrezuelo referred to as "electronic abuse and the excessive innovations by young musicians." Hierrezuelo was very clear on what makes great music. "Music is still the art of perfectly combining melody and rhythm. Being good or bad has nothing to do with the color of the crystal you're using to look at it, but rather with the color of the crystal with which it is made."
In an interview in Madrid's El Pais, Hierrezuelo explained that the music selected for their recordings came very much from their roots. The songs are those all had performed at one time or another, and most of them knew many of the composers, such greats as Miguel Matamoros, Sindo Garay, Pepe Sánchez, among others. He responded to a question about the mixture of cultures and races in Cuba by saying, "Nature gave us the opportunity to be a hybrid which turned out to be better than the original. We are the product of both Africa and Spain, and Cuban music is born from this blend, and from the rhythms of both cultures. Nature made us your children (and I say this without vanity) made us prodigies; we're delighted that we were good students and surpassed our teachers. The son is more than the essence of Cuban music, it is the music's mother and father. The son was born in Santiago de Cuba's rural surroundings, because it is a rural music, like montuno, which is from the mountains. The other genres arose from this, the bolero, the guaracha. To me the son is a wild, original musicthat's why I love it so."
Amado Machado, the oldest member of the group, died in October of 1998. He was the maracas player and the main singer of the group's montunos.
The group retired in 2002, after an acclaimed tour of Spain. Its last concert took place in Madrid at La Riviera. Virgin Records Spain released a DVD in 2002 featuring music, discography, music videos and a documentary of the legendary band.
Discography:
Vieja Trova Santiaguera (NubeNegra, 1994)
Gusto y Sabor (NubeNegra, 1995)
Hotel Asturias (NubeNegra, 1996)
La Manigua (Virgin, 1998)
Boleros de toda una vida (Warner Music Spain, 1999)
Domino (Virgin, 2000)
El Balcón del Adiós (Virgin, 2002)