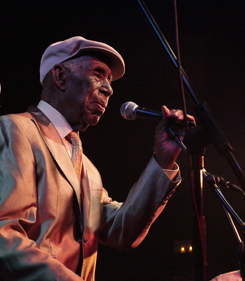 Reinaldo Creagh was born on July 9, 1918 in Santiago de Cuba, Cuba.
During many years, Reinaldo Creagh was the leader of one of Santiago de Cuba's legendary bands La Estudiantina Invasora. He was one of the founders of the Vieja Trova Santiaguera and its more representative voice and unique personality.
At the beginning of 1999, when he turned eighty years old, Reinaldo released his first solo CD titled "Boleros de toda una vida" (A whole life's Boleros) which received critical acclaim. During his live performances he traveled through history's most important boleros.
Reinaldo Creagh died on November 16, 2014 in Santiago de Cuba.
Discography:
Vieja Trova Santiaguera (NubeNegra, 1994)
Gusto y Sabor (NubeNegra, 1995)
Hotel Asturias (NubeNegra, 1996)
La Manigua (Virgin, 1998)
Boleros de toda una vida (Warner Music Spain, 1999)
Domino (Virgin, 2000)
El Balcón del Adiós (Virgin, 2002)