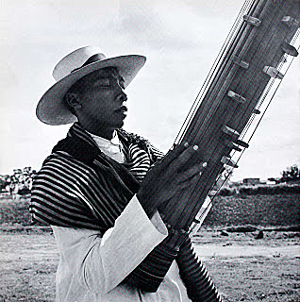 Valiha maestro Benjamin Sylvestre Randafison was born in Madafascar in 1928. In addition to playing and promoting the usea of the valiha, Sylvestre Randafison also made high quality bamboo valihas with different tunings.
Throughout the 1950s and 60s, Sylvestre Randafison and his trio, Ny Antsaly, toured extensively outside Madagascar.
In addition to his work as a musician and instrument maker, Sylvestre Randafison also worked as a folklorist for the Madagascan Ministry of Cultural Affairs, traveling throughout Madagascar to collect more than 1,000 pieces of traditional music.
Sylvestre Randafison died on July 12, 2003.
Discography:
Valiha De Madagascar Vol.1, with Jean-Baptiste Ramaronandrasana (Pied Rouge, 1987)
The Art Of Rakoto Frah & Randafison Sylvestre – Madagascar (JVC, 1989)
L'Art De La Valiha – The Art Of The Valiha ‎(Arion, 2000)