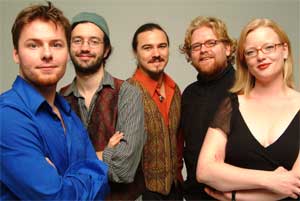 The McDades At the heart of The McDades are three siblings: the fiddle playing Shannon, Solon on bass, and youngest brother, Jeremiah, a multi instrumental virtuoso on whistles, saxophone, fiddle and flute. The McDades are joined by vocalist and guitarist, Andy Hillhouse and multi-genre percussionist, Francois Taillefer.
The McDade's sound is immersed in the spirit of improvisation featuring both energetic instrumentals and sensitive vocals performed in English and French. The McDades Celtic rooted music fuses the spontaneity of jazz improvisation and infectious global rhythms.
The McDades have been recipients of the 2007 Juno Award Winners for Best Roots/Traditional Album Group, winners of the 2007 Independent Music Award for Best World Album Traditional and winners of the 2006 Canadian Folk Music Awards for Best World Group and Best Instrumental Group.
Discography
Midwinter (2001)
For Reel (Free Radio, 2002)
Noel (2004)
Bloom (Free Radio, 2006)
Winter Rose (2011)