The Jerry Cans – Inuusiq (Aakuluk Music, 2017)
Canadian band The Jerry Cans is based in Nunavut, in Canada's far north. On Inuusiq they present a unique mix of folk-rock, pop, indie rock, reggae and Inuit throat singing.
The band indicates that their songs talk to young people and their challenges, trying to make music that equalizes traditional and contemporary life.
One of The Jerry Cans' initiatives is the creation of the first record label ever in Nunavut, Aakuluk Music. "We had thrown around the idea to start a label to support Inuktitut music. We have four young artists singing in Inuktitut," says vocalist and guitarist Andrew Morrison. "We've often heard as we were pitching our work, that if you want to succeed, you have to sing in English. We don't accept that. We wanted to create a business entity to support it."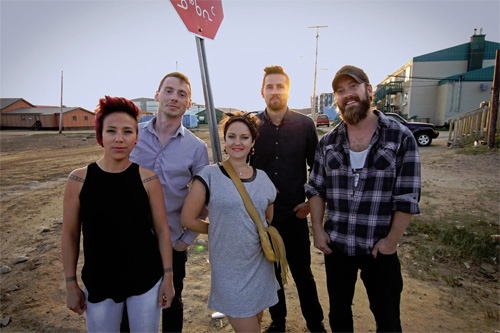 The lineup includes Nancy Mike on throat singing and accordion; Brendan Doherty on bass; Steve Rigby on drums; Gina burgess on fiddle; and Andrew Morrison on lead vocals and guitar.
The CD version includes a booklet with Inuit and English-language lyrics.
With Inuusiq and their new record label, The Jerry Cans give a fresh, creative new voice to Canadian Inuit culture.
Buy Inuusiq