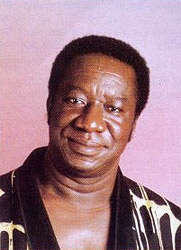 Pascal-Emmanuel Sinamoyi Tabu, better known as Tabu Ley was born November 13, 1937 in Bagata, Belgian Congo. He was a renowned Congolese singer and band leader. His artistic name appeared in several forms: Tabu Ley, Rochereau, Signeur Rochereau, and Tabu Ley Rochereau. They are all the same person.
He began his career as a singer at age 14 in Joseph Kabasela's legendary Africa Jazz orchestra. He subsequently left that orchestra and was one of the two largest figures (along with Franco et TPOK Jazz) of the Congo/Zaire soukous rumba scene of the late 1960s through the 1980s.
During the mid-90's he and his Afrisa Internationale orchestra were living in exile in the USA.
A handful of the Afrisa band members – Modero Mekanisi, Wawali Bonane, Dodo Munoko and Huit-Kilos Nseka (who later joined Ricardo Lemvo's Makina Loca ensemble) stayed in the USA.
Tabu Ley returned to Kinshasha in the late 1990s after the dictator Mobutu Sese Seko fell from power. He performed in Africa and Europe from time to time as well as serving a position as Cultural Governor for the government back home in Congo.
Tabu Ley died on November 30, 2013 in Brussels, Belgium.
Discography:
Tabu Ley (Shanachie Records, 1967)
Kaful Mayay (Syllart, 1973)
Omana Wapi (Shanachie Records, 1976)
Babeti Soukous (Real World Records, 1989)
Live in Concert (Sonodisc, 1991)
Man from Kinshasa (Shanachie Records, 1991)
C'est Comme Ca La Vie (Sonodisc, 1994)
Soum-Djoum: Afrisa De L'an 20 (Sonodisc, 1994)
Feu D'artifice (Sonodisc, 1994)
Muzina (Rounder, 1994)
Faux-Pas (Sonodisc, 1995)
Sarah (Sonodisc, 1995)
1971, 1972, 1973 (Syllart, 1995)
Tete Nakozonga (Syllart, 1996)
Africa Worldwide: 35th Anniversary Album (Rounder, 1996)
Les Années 70 (Sonodisc, 1997)
A L'Olympia (Syllart, 1997)
Christine (Sonodisc, 1997)
Kebo Beat (Sonima, 1997)
Picnic Ya N'Sele (Ngoyarto, 1997)
Karibou Ya Bintou (Sonodisc, 1998)
Tempelo (Sonodisc, 2003)
The Voice of Lightness: Congo Classics 1961-1977 (Stern's, 2010)