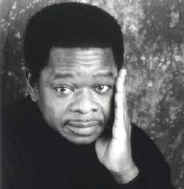 Sam Mangwana is one of the prime singers and innovators of Congolese rumba, a musical form which has animated dancers and listeners alike throughout the African continent. Commonly known as soukous, Congolese rumba combines hip-swinging rhythms with lyrical guitars and vocals to create a music whose influence continues to reverberate in the West.
Born in Kinshasa (Congo) of Angolan parents, Sam Mangwana's story is a rich tapestry of international influences. As a child his parents took him to hear the music of artists coming from Cuba, Martinique, Jamaica, France, Spain, Italy, and the US, whose tours brought them to Kinshasa. In particular, the Caribbean musicians who passed through Congo-Kinshasa and Congo-Brazzaville had a tremendous influence on the local music scene.
The Congolese recognized their own African rhythms in the Latin beats of the tres (guitar) and percussion players who performed son, beguin, mazurkas, meringue and calypso. Extremely popular in the two Congos, this Caribbean music was re-Africanized through the artistry of musicians such as Joseph Kabasele ("Le Grand Kalle"), guitar wizard Dr. Nico, Rock-a-Mambo, Jazz Africaine, and the revered guitarist Franco with his TPOK Jazz big band. Later Cameroonian saxophonist Manu Dibango, and singer Tabu Ley Rochereau contributed compositions based on bolero and cha-cha-cha rhythms. In the Congo, this re-Africanization of these rhythms came to be known as rumba. In much of the rest of Africa, where it enjoyed tremendous popularity, people called it Congo music.
Sam grew up in this prolific and creative musical environment. While still a 17 year old student at the Salvation Army School in Kinshasa he approached Tabu Ley Rochereau, showing the bandleader songs he had written. Tabu Ley was very impressed, and invited Sam to join his band, then known as African Fiesta. When African Fiesta broke up soon afterward, Sam joined Tabu Ley's offshoot called African Fiesta National. He stayed at Tabu Ley's side until 1968 when he left to form a new band called Festival des Maquisards with guitarist Dizzy Mandjeku. The Festival des Maquisards was truly a collaboration of several musicians who were interested in developing a new and democratic model for working musicians.
Sam's work as vice-president of the Syndicat National de Travailleur Agricole Angloais (SNTAA- in exile), had a strong impact in the way he chose to champion musicians' rights, and to better provide for their working conditions. This new model caught the attention of one Dennis Ilosono, who offered to establish a special fund which would help improve the social conditions of the musicians. Unfortunately, after one year, this new model caused such resentment and jealousy within the musicians' community that the Festival des Maquisards was forced to disband. At this point Sam decided to throw his energy into producing records with La Belle Sonora, his own small label. For the next three years, he produced two LPs and 6 singles, including his hit "Domingo".
In 1972, Sam was asked to join Franco and his band TPOK Jazz. They were looking for fresh input for the band's repertoire, and chose Sam as the musician best able to implement this new direction. This was a controversial move for Sam because of his previous association with Tabu Ley, and because of the difference in musical philosophy between Tabu Ley Rochereau's group, and that of Franco. However, despite personal threats and the stress of this new allegiance, Sam continued to perform with Franco until 1975, at which point he returned briefly to perform with Tabu Ley before leaving for West Africa in 1976.
He settled briefly in Abidjan, Ivory Coast, where he met with other former members of Tabu Ley's band including guitarists Dizzy Mandjeku , Lokassa ya Mbongo and drummer Ringo Moya. Together they formed the seminal group African All Stars. The African All Stars tinkered with the Congolese rumba, speeding it up a bit, adding touches of Afrobeat and highlife, and singing more of their songs in French. The changes produced a more "international" rumba which led directly to the Paris "soukous" sound that developed soon afterward.
After a year with the African All Stars Mangwana went solo, touring throughout the African continent, playing to audiences of 50,000 in stadiums and arenas. In 1991 he recorded another very popular release called Rumba Music, with guitarist Dizzy Mandjeku and several New York salseros. Since that time Sam has settled in France, near Paris. He is busy composing songs that carry messages of love, loss, political exile, and the environment, to the far-flung African diaspora. Pieces like Canto Mozambique, a salute to the Mozambican revolution which became a huge hit when it was released in 1983, and Manjani, calling for a halt to the destruction of Africa's forests and grasslands, are two excellent examples of Sam's concerns for what he sees going on around him.
The music of diverse African and Lusophone cultures continue to serve as the basis of inspiration for Mangwana's creativity, including Angola, Mozambique, Cape Verde, Brazil, Guinea Bissau, Cuba, and the Congo. Sam's releases include Galo Negro (Putumayo, 1998) and Sam Mangwana Sings Dino Vangu (Stern's, 2000). Both albums have been extremely well-received, with the latter release reaching #3 in the European World Music charts. Sam is proficient in several languages, and can sing passionately in Lingala, Kikongo, Swahili, Portuguese, French, and English.
"Congolese rumba was my first love," he declares, "and it will always be my deepest love. I feel compelled to show that there's still a lot of life in Congolese rumba, a lot of grace and charm."
Discography:
Waka Waka (1978)
Maria Tebbo (1979)
Georgette Eckins (1979)
Matinda (1979)
Affaire Disco (1981)
Est-ce Que Tu Moyens? (1981)
Cooperation (1982)
Affaire Video (1982)
N'Simba Eli (1982)
Bonne Annee (1983)
In Nairobi (1984)
Aladji (1987)
For Ever (1989)
Lukolo (1989)
Capita General (1990)
Megamix (July 1990)
Rumba Music (Stern's Africa, 1993)
No Me Digas No (1995)
Galo Negro (Putumayo, 1998)
Sam Mangwana Sings Dino Vangu (Stern's Africa, 2000)
Volume 1 Bilinga Linga 1968/1969 (2000)
Volume 2 Eyebana 1980/1984 (2000)
Very Best of 2001 (2001)
Cantos de Esperanca (2003)