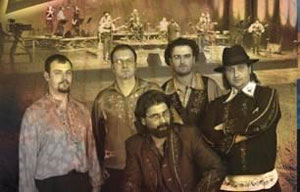 1990 was the first functioning year for the group Sukar, made up of active members of tamburitzza orchestras from Ljubljana at the time. These artists, after many years of playing traditional melodies and folk music, began to concentrate on playing mostly Gypsy, or Romany music. They dedicated the entire opus of their work to this music. The group Sukar is a tamburitzza ensemble.
It had five members, with the most common combination being first brac, second brac, tamburitzza cello, bugarija and the contrabass. In place of the first brac, they sometimes incorporated the bisernica, other times the violin. The group's repertoire included Gypsy music from all over Europe, which, because of the variations in the way of life in different surroundings, has created a colorful musical tradition.
The group generated material for their repertoire by gathering written and recorded songs, as well as songs that have been passed down orally, which they later remake in their own style and perform in the new form.
Sukar mostly performed songs in the Pristevacki and Cergarski variations of the Gypsy language, largely because of their widespread use, but the other dialects, such as the languages of the Sints, the Hungarian gypsies, the Vlach and Romanian Romany communities and the Russian and Carpathian gypsies, are also represented in their songs.
Discography:
Ciganska Duša ‎(Corona, 1994)
Mentol Bombon (KD Etno Karavana, 1996)
Čhaie ‎(Corona, 1997)
rvo Iv ‎(KD Etno karavana, 2000)
En Concert ‎(Sazas, 2003)