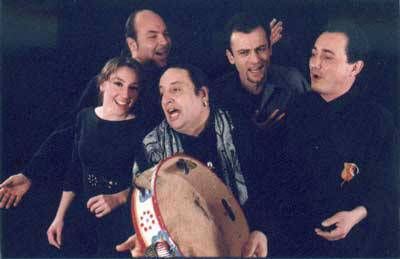 Spaccanapoli comes from the streets of Naples, full of vibrant energy, impassioned vocals and wild abandon. The band sings modern protest songs from ancient roots. "One by one we die – all because of the bosses!"This defiant line isn't sung at some socialist youth rally, but rather an informal gathering of automotive workers near Naples.
These age-old gatherings where people sing, perform street theater, tell stories and entertain their peers have been an outlet for the working people to express their troubles and ease their pain.
Spaccanapoli grew out E Zezi, the original gruppo operaio (socialist workers collective) of automotive workers in their native Naples.
Formed in 1974, E Zezi has consisted of over 100 singers, musicians, and dancers set out to express the cruelties of capitalism and the insensitivity of their corrupt bosses.
What began as a group of dedicated locals making music of the people, by the people, and for the people has gradually mutated into an internationally renowned cultural troupe who have been in much demand on the festival circuit. An old street of Greek origin in the center of-Naples, "Spaccanapoli" (meaning "split Naples") embodies the soul of their city – in spite of being reduced to a stop-off on the tourist trail, it still retains the vital, irrepressible spark of authentic folk expression.
On Lost Souls, Spaccanapoli perform songs about political protest, beautiful girls, spirits, goblins, carnival, magic, and the beloved Mt. Vesuvius – emblem of the region and its explosive soul.
Pulsing drums and impassioned vocals entwine with the wild dances of the "tarantella" (ancient solo dance of possession) and "tammurriata" (a dance performed in couples within a circle of people to the steady rhythm of the tammorra drum).
The lineup in 2000 featured Monica Pinto (lead vocals), Marcello Colasurdo (lead vocals, tammorra), Antonio Fraioli (violin, piano, percussion), Oscar Montalbano (acoustic guitar, bass), Emilio De Matteo (acoustic and electric guitars).
Discography:
Aneme Perze – Lost Souls (Real World Records, 2000)
Janus (2009)