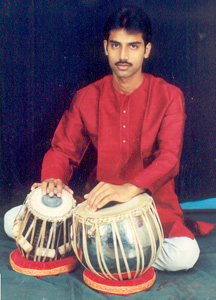 Shailendra Mishra is an award-winning Indian Tabla player who performs jugalbandi concerts of North &South Styles of Indian music as well as fusion music. He studied with H Pandit Anand Gopal Banerjee at the Sangeet Research Academy in Calcutta and later with Pandit Samir Chatterji under Guru Shishya Parampara.
Mishra has worked as a senior instrumentalist with Song and Drama Division. He has also taught music under Guru Shishya Parampra.
He has given solo performances and also accompanied the following musicians: Pandit V.G. Jog (Violin), Pandit Shrikant Bakre (Vocal). Pandit Rajan Sajan Mishra, (Vocal), Vidushi Dr. N.Rajam (Violin), Pandit Ulhas Kashalkar (vocal) Pandit Jagdish Prasad (Vocal), Pandit Nityanand Haldipur (Flute), Pandit Vishnu Prasanna (Shehnai), Pandit Dinanath Mishra (Vocal), Pandit Vinayank Torvi (Vocal), Pandit Rajendra Prasanna (Flute), Pandit Amiya Ranjan Banerjee (Vocal), Pandit Deepak Chatterjee (Vocal), and many other personalities.