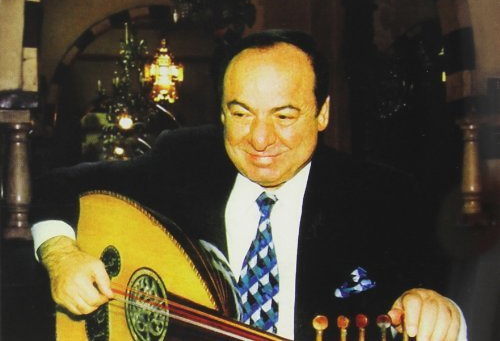 Sabah Fakhri is one of the foremost master vocalists of the Arab world. He was born in Aleppo, Syria in 1933. His talent was recognized early: he was barely ten when he began performing at event concerts with leading professionals of the time.
Fakhri's teachers at the Damascus Conservatory were well-known composers Shaykh Ali al-Darwish and Shaykh Umar al-Batsh who worked within the musical tradition of the Mevlevi Sufi order in Syria.
In 1950, Sabah Fakhri was invited to sing with the National Syrian Radio Orchestra where he quickly received critical acclaim for his superb vocal technique and unique silver tonal quality.
Fascinated with the history of Arabic music Fakhri researched diligently into the earliest recording of the major Arab artists. As a result, he has amassed a tremendous repertoire of classical songs. His firm grounding in Arabic poetry and literature has enabled him to document traditional Arabic music in a multi-part audiovisual series titled "Nagham al-Ams" (Tunes of the Past) consisting of numerous vocal compositions in traditional genres.
Known for his superb interpretations of the Andalus-based repertoire so popular in Aleppo. Fakhri's name has been especially linked to the classical muwashshah. He also performs traditional vocal genres such as qasida, dawr, qadd and the improvisational mawwal. He has performed on hundreds of recordings and has toured North and South America, Western Europe, Russia and Australia. He has received numerous honors and medals in recognition of his artistry and achievements.
Partial discography:
The Legend: Live At Beiteddine Festival (Vol.1)
The Legend: Live At Beiteddine Festival (Vol.2)
Best of Sabah Fakhri Legend
Master of Andalusian Folklore