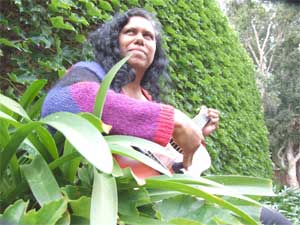 Rhubee Neale (Sue Gibson Napanangka) a Central Australian Desert Rose is originally from Alice Springs she is of the Anmetyerre, Arrernte and Irish heritage and now a resident of Sydney.
Rhubee is an Indigenous performer and Singer/Songwriter. Her lyrics and music captures her Irish and Aboriginal Identities with topics close to her heart relating to her people, life and homeland. Rhubee's performance is honest and warm she gives her audience a gift with each song' stories from her rich and varied past, an Artist working in storytelling through song art and stage (EORA end of year Theatre production EPHEMERRA- Choir). Her prominent instruments are vocals and guitar and taste in music style ranges from Blues, Country, Reggae and Folk. Rhubee worked as an extra on film, a Lecturer with in the Higher Education Sector and a Cultural Educator / presenter.
Rhubee's music was nurtured to develop by her family, her music gift originated from both parents. Rhubee's childhood dream to sing became a reality when she commenced the Music and Art Course at EORA TAFE, Centre for Performing Arts, Chippendale, Sydney NSW, Australia. Rhubee is passionate to utilize her new medium of music to promote and share heritage with all walks of the human family.
Rhubee performed around Sydney with Kenneth Smith and also with her nephew Nathan Scott at various Community events and venues such as the Voices of the Village, The Harp in Tempe and the Sandringham Hotel, Newtown.
Artists that inspired Rhubee: Kev Carmody, Archie Roach, Emmie Lou Harris, Dolly Parton and Michelle Shocked.
Rhubee co-writes with such songwriters such as her Sister Letty Scott, Nathan Scott and Kenneth Smith. Some of the Songs registered with Apra are Kangaroo Irish Stew, Windmill Jack, White Sheets Like Cockatoo's.