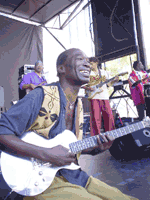 Congolese musician Samba Ngo said "Let's dance now, because who knows tomorrow?" He has been spreading this musical message around the world. Ngo's music is a powerful fusion of jazz funk and Soukous.
Ngo was born in a tiny jungle village in Zaire where his father, an herbal doctor, taught him the rhythm used in healing rituals. It was on his travels with his father that Ngo witnessed and shared in a multitude of healing rituals that traditionally included music, dance and singing. The young Ngo also learned music in the village band, in which he played the ngoma (conga) drum.
At 15, Ngo moved to Brazzaville, Congo, and joined a band called Echo Noire. The move paid off, and Echo Noire achieved acclaim in Africa and Europe. Somewhere in the intervening time, Samba and the electric guitar met up. It was that guitar that helped him to create a style of music that he feels is a sacred calling, a form of poetry, a philosophy for living. After touring Africa and Europe with Echo Noire, he was fundamental in the formation of the bands African Rhythms and M'Bamina. With both bands, he toured worldwide and recorded a total of nine albums.
His 1986 move to the West Coast of the United States allowed him to begin collaborating with American jazz musicians like ex-Herbie Hancock percussionist Bill Summers and to form his own band, the Ngoma Players. He has no problem communicating with his audience, despite the fact that most of his lyrics are in French, Lingala or Kikongo.
Discography:
Metamorphosis (Compas Records, 1998)
Ndoto (2004)