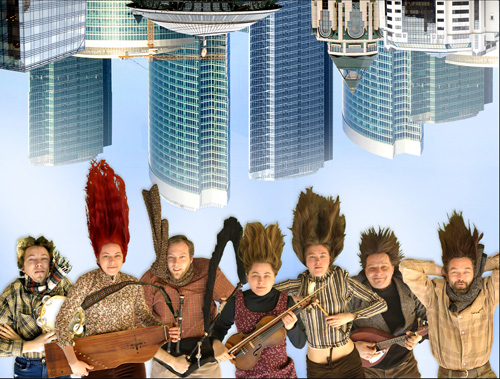 Reelroad plays traditional Russian music in an original post-folk style in concert halls and festivals throughout Europe and Russia.
In 2008 the band crossed the Atlantic to perform at world music festivals in Mexico and the United States. In early 2009 Reelroad celebrated its 10th anniversary.
Reelroad's repertoire favors obscure folk songs from northern Russia and central Siberia, music driven underground for decades. Reelroad has two styles of performing Russian folk music. The first echoes the village with the sound of Russian instruments such as the gusli (zither), zhaleika (fife) and kaljuka.
Traditional vocals are prominent, due in part to Reelroad members Anastasia Karaseva and Aleksandrs Dmitrijevs, founders of the traditional village choir "Dubinushka." Acoustic guitar, violin, flute and bagpipes round out the sound.
In the second style, developed for the large stage, Reelroad projects and amplifies the village sound with bass guitar and drums. All seven Reelroad members are musicians. Four serve as vocalists as well, singing in traditional Russian village vocal style.
Anastasia Karaseva plays the tin whistle, Spanish pandereta and Irish harp.
Alexey Belkin manages Reelroad and plays Galician and Scottish bagpipes, zhaleika (fife) and winged gusli (dulcimer).
Aleksandrs "Kep" Dmitrijevs plays acoustic guitar, banjo and harmonica.
Natalia Vysokikh is a professional violinist.
Alexey Skosyrev made the fretless bass guitar he plays, as well as Anastasia's harp.
Svetlana Kondesyuk, a graduate of the Academy of Arts, plays the flute and Galician bagpipes.
Denis Nikiforov learned to play the drums in the army, studied at the Academy of Arts, and works at the famous Hermitage museum.
In addition to concert performances, Reelroad teaches Russian folk dances in clubs and dance schools. The band welcomes dancers of all skill levels and aims to dispel the belief Russian folk dances are boring or difficult.
Discography
Reelroad (2001)
Стрела – Arrow (2003)
Гуляю, гуляю – I Walk I Walk (2007)
Выйду за ворота – Past the gates (2014)
На море орёл (single) (2016)