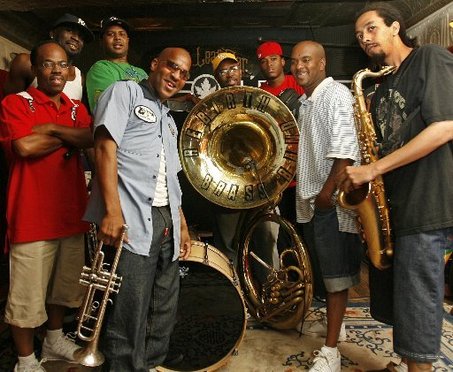 New Orleans ensemble Rebirth Brass Band was formed in 1983. The group carries musical tradition through the decades with a revolving cast of musicians.
Brothers Philip and Keith Frazier and their friend Kermit Ruffins first started the band with members of the Joseph S. Clark Senior High School marching band. Rebirth has recorded many albums won a Grammy and toured Europe and the U.S.
Rebirth Brass Band has seen its share of hardships. In 2005, Hurricane Katrina devastated their home city including the neighborhood of Treme which is now widely known due to the HBO TV series of the same name which followed neighborhood citizens as they rebuilt their homes and lives. Through the years Rebirth Brass Band which was featured in the series has used music to create hope unity and a sense of place even while marching around the world.
Discography:
Here to Stay! (Arhoolie Records, 1984)
Feel Like Funkin' It Up (Rounder Records, 1989)
Do Whatcha Wanna (Mardi Gras Records, 1991)
Rebirth Kickin' It Live (Rounder Records, 1991)
Take It To The Street (Rounder Records, 1992)
Rollin' (Rounder Records, 1994)
We Come To Party (Shanachie, 1997)
Main Event: Live At The Maple Leaf (Mardi Gras Records, 1999)
Hot Venom (Mardi Gras Records, 2001)
Rebirth for Life (2004)
Ultimate Rebirth Brass Band (Mardi Gras Records, 2004)
Throwback (Basin Street Records, 2005)
25! 25th Anniversary Album (2008)
Rebirth of New Orleans (Basin Street Records, 2011)
Move Your Body (Basin Street Records, 2014)
DVDs:
Never A Dull Moment (2007)