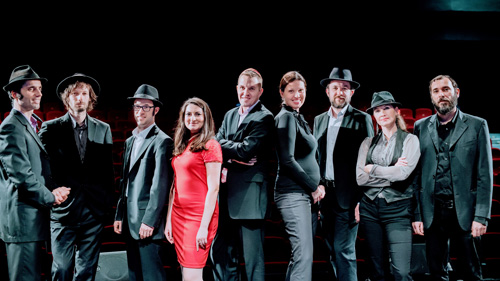 Bratislava-based Preßburger Klezmer Band was formed in 1995. Founding members included saxophonist Daniel Sloboda; viola player Tomáš Kaiser; clarinetist and saxophonist Erik Rothenstein; and violinist Daniel Alexander. The lineup has changed throughout the years.
Although the group is inspired by klezmer music, Preßburger Klezmer Band also incorporates Slovak, Gypsy, jazz, rock, reggae and Latin music.
The Baladen (Ballads) album contains nearly forgotten songs about love, life and God from the Slovak Jewish Heritage. Vocals are in Yiddish, Hebrew, Ladino & Bosnian.
Discography:
Lajv ‎(Akcent, 2002)
Mit Libe… / S Laskow ‎(Hev-Het, 2006)
Ot Azoy! ‎(Millenium Records, 2009)
Preßburger Special ( Slovak Klezmer Association, 2010)
Tants mit mir ( Slovak Klezmer Association, 2012)
Tsvantsik Yorn (Slovak Klezmer Association, 2015)
Baladen (Real Music House & Slovak Klezmer Association, 2018)