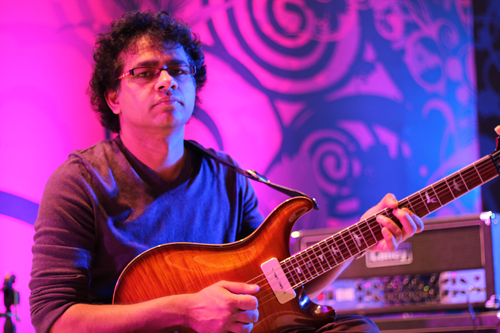 Prasanna was born on August 28, 1982 in Tiruchirappalli, India. He is the most important performer of Indian Classical carnatic music on the electric guitar. Firmly grounded in tradition and yet extending its scope. Prasanna has stunned audiences all over the world at some of the most prestigious concert halls, international guitar festivals, jazz and world music festivals.
He has recorded and played on stage with numerous international world, jazz and rock artists. Prasanna has also recorded instructional videos.
In 2003, Prasanna released an educational DVD titled DVD Ragamorphism. This is the first ever educational DVD that really goes into the depths of application of Indian Classical Carnatic music to contemporary Jazz, Rock, Blues improvisation and beyond. In spite of the complex nature of the material presented on the DVD, Prasanna employs a relaxed conversational approach throughout the film. Prasanna unlocks the potent wealth of his microtonal Carnatic vocabulary, that makes it possible for him to improvise in a way no other guitarist has ever done before.
Ragamorphism explores numerous ragas and their applications in soloing over chord changes, the blues, chord voicings derived from Ragas, microtonal slurring and sliding guitar techniques, mathematical treatment of rhythms etc.
In late 2003, Prasanna's CD Be the Change was released. Aside from Prasanna's guitars and vocals, it features acclaimed musicians: bass legend Alphonso Johnson (Weather Report, Santana, Phil Collins etc), virtuoso bassist Victor Wooten (Bela Fleck and the Flecktones), saxophonist Jeff Coffin (Bela Fleck and the Flecktones), studio drummer Ralph Humphrey (Frank Zappa, Chick Corea, Wayne Shorter etc), saxophonist/pianist Andy Suzuki (Al Jarreau, David Benoit, Kilauea), and drummer Derico Watson (Victor Wooten band, Jeff Coffin band, Bela Fleck etc).
In the summer 0f 2005, Prasanna completed 2 recording projects. Electric Ganesha Land, part Carnatic, part classic rock, part metal, part grunge and part funk with a nod to psychedelia. The powerful rhythm section features Haridwaramangalam A.K. Palanivel on thavil, Prapancham Ravindran on mridangam, Karthick on ghatam, morsing and B.S. Purushotham on kanjira. Prasanna plays electric bass additionally on a few tracks. "I recorded this album on Pro-Tools HD in the beautiful Mahati studios in Chennai, (owned by film composer Mani Sharma) and mixed it with the ubiquitous H. Sridhar at AM studios on the Neve 88R super analog console."
The other album project was Ra Rama. "This is a traditional Carnatic CD and again I have a burning rhythm section of Haridwaramangalam A.K. Palanivel on thavil, J. Vaidhyanathan on mridangam and Karthick on Ghatam. I chose to play one composition each from many different composers and sonically this is special since this is the first time I have had both thavil and mridangam on a Carnatic album."
Discography:
Spirit of Youth (Saragam, 1993)
Vibrant Aesthetics (Inreco, 1993)
Evergreen Classicals on guitar (Keerthana, 1993)
Evergreen Melodies on guitar (Keerthana, 1993)
Guitar goes Classical (Audio Fine, 1993)
Guitar Indian Style (Oriental Records, 1996)
Roots (Sangeetha/HMV, 1997)
Shakthi – The Omnipotent (Music Today, 2000)
Natabhairavi (Inreco, 2000)
Apoorva Ragas on Guitar (Kalakendra, 2000)
Echo (Saican, 2000)
Peaceful (Susila Music, 2001)
Be the Change (Susila Music, 2004)
Ra Rama (Kosmic Music, 2005)
Electric Ganesha Land (Susila Music, 2006)
Raga Bop Trio (Abstract Logix, 2010)
All Terrain Guitar (Susila Music, 2016)
DVDs
Ragamorphism (Susila music, 2004)
Live in Sedona (Susila Music, 2009)