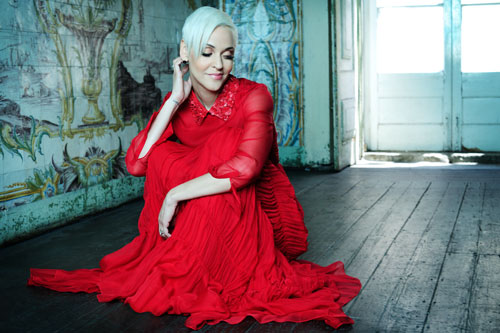 Mariza began singing Fado as a child, before she could read. Her father sketched out little cartoon stories to help her remember the lyrics. At the age of five, she would join in the spontaneous singing at her parents' restaurant in Mouraria, one of Lisbon's most traditional neighborhoods.
Mariza was born in Mozambique, but her family moved to Portugal when she was a baby, giving her plenty of time to get immersed directly in the Fado tavernas (Fado houses) where singing is part of everyday life. She told the BBC, "Half of me is very, very Portuguese and the other half is very, very African."
At the age of twenty-six, Mariza released her first CD, Fado Em Mim, the recording presents six classic Fados and six original compositions, all of them tugging listeners at the heart and soul.
Fado is Portugal's passionate and bittersweet musical gift to the world, equivalent to Blues or Rebetika or Tango or Flamenco. "They all stand on emotions," said Mariza. "Fado is an emotional kind of music full of passion, sorrow, jealousy, grief, and often satire."
Mariza had her first major national exposure in 1999 as one of the guest performers in Tribute Concerts for Amália Rodrigues in the Coliseums of Lisbon and Oporto. Both performances were broadcast live on one of Portugal's Network TV channels. Mariza's performances immediately sparked interest in the public and in the national media. In 2000, she received the award, "Voice of Fado," presented by Central FM (Portugal's national radio station). She was invited to "introduce" Fado to rock icon Sting by a highly rated national television show Hermansic.
Mariza walks the fine line necessary to both genuinely carry the tradition and bring it freshness for today. Her performance style captures the raw emotion that characterizes the genre, but with her own personal twist.
When Mariza recorded Transparente, her latest studio album, she recruited Brazilian Jaques Morelenbaum to help her create the sonority she wanted. "He gave me a more velvet, more intimate, more romantic sound," Mariza dreamily recalls.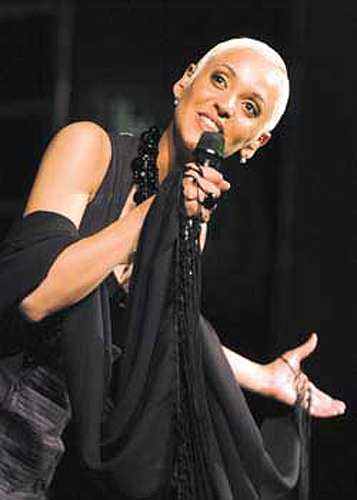 "We recorded the Transparente album in Brazil," explains Mariza. "I am looking for fado from a different perspective, because I now travel a lot. One month I am at the Sidney Opera House, another month I am in China or Thailand. I am starting to find that this music that belongs to Lisbon, to Portuguese people, is starting to feel more and more universal. It speaks about universal feelings. Each country interprets it in its own way. We are crossing cultural lines now. And I feel so proud about it."
When Lisbon's mayor invited Mariza to perform for Lisbon in this way, she brought Morelenbaum in once again for the arrangements and conducting duties. One a rainy summer evening in 2005, around 25,000 people gathered at the Tower of Belem's gardens in Lisbon to hear Mariza.
The 500 year-old Tower of Belem sits at the mouth of the River Tagus. The Tower of Belem looks in one direction onto the river and towards the sea, the departure point for Portugal's famous sailors. In the other direction it looks over the city of Lisbon. Looking forward while looking back.
At the gardens, Mariza performed favorite songs from her young-but-full career with a full orchestra, the Sinfonietta de Lisboa, conducted by Jaques Morelenbaum. The magical night is captured on Concerto em Lisboa, released on CD with a bonus DVD documentary. Concerto em Lisboa went platinum in Portugal for both CD and DVD version.
"Having the river and the Tower, the place where the boats left to make their discoveries in the 16th Century; going to India and Africa. Being in that place, singing fado was very emblematic that night," says Mariza. "Even if I didn't want to think about it, the sea was so near, and all these things came to mind that night. I never thought a girl with roots in Africa would have all that!"
"I was not expecting so many different ages, from a younger generation, to grandmothers with grandchildren. There were traditional people from my neighborhood and people coming from the north and the south, even from Spain!" exclaims Mariza. "When I saw the images, showing my Lisbon people, and not only people from Lisbon, but a very eclectic audience, all clapping and singing along, I realized what a beautiful night it was. It was not a typical fado audience. I was so surprised. I loved it."
Outside interest in Mariza abounds, from her sell-out concert at the 6,000-seat Royal Albert Hall in London, to her BBC World Music Award, and being picked by Germany's '100 most important women in Europe.' She performed a duet with Sting for the Athens Olympics album, and became a UNICEF Ambassador.
In 2007 Mariza took the symphonic show on the road. "Sometimes when you talk about classical music, people have a cold approach and they get a little bit distant," Mariza says. "But with John Mauceri, it was amazing. He had a very, very special way of treating the music. Always explaining it to the audience and saying funny things. It was unbelievable! I learned from him that even if you have a light approach, it doesn't mean you are not respecting the music."
Mariza has also been getting her feet wet in the film world. The BBC released a documentary in 2007 titled Mariza and the Story of Fado, compellingly profiling both the artist and the genre. There will be a special limited edition version of the Concerto em Lisboa album that includes the full BBC documentary. And Mariza played the lead role in a new film called Fado by Carlos Saura, whose past works include the Oscar-nominated Tango and Flamenco, giving fans a chance to see her in an acting role.
In 2007 prominent architect Frank Gehry designed a set for a performance by Portuguese fado singer Mariza later this year. Gehry, renowned for his stunning and daring urban visions, agreed to create a taverna-inspired stage for Mariza's performance in October at the Walt Disney Concert Hall.
Gehry said he met Mariza several years ago in Lisbon and was enamored by fado, Portuguese folk music that often has mournful lyrics. "It's a very intimate setting and there is a dark ambiance," said Mariza. "It's a huge privilege to have my own taverna directed by Mr. Gehry."
Her international acknowledgement is notable: in 2003 she won the BBC Radio 3 Award For World Music, in the European category. She was the first Portuguese artist ever nominated for the GRAMMY awards in the category of Best Folk Album.
Discography:
Fado Em Mim (World Connection, 2001)
Ao Vivo Na Culturgest ‎(2002)
Fado Curvo (EMI, 2003)
Fado Curvo / Ao vivo em Espanha ‎(EMI-Valentim De Carvalho, 2004)
Ao Vivo No Casino ‎(Corda Seca, 2004)
Transparente (EMI, 2005)
Concerto Em Lisboa (EMI Music Portugal, 2006)
Terra (EMI Music Portugal, 2008)
Fado Tradicional (EMI Music Portugal, 2010)
Live at Philharmonie im Gasteig in Munich ‎(2013)
Mundo (Warner Music Portugal, 2015)
Mariza (Warner Music Portugal, 2018)
DVDs
Live 8 at Eden – Africa Calling (Real World/Rhino, 2005)