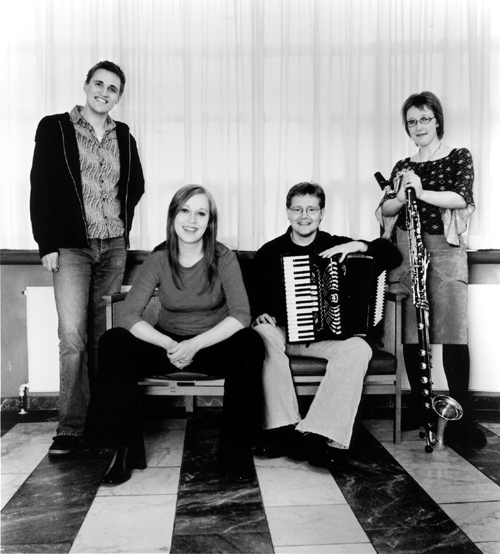 Phønix's music is characterized by its its respect for tradition with a drive for originality. With a unique instrumentation on some new tunes, texts taken from the great Scandinavian folk tradition, and complex and original arrangements, Phønix is doing its bit to rejuvenate and continue the Danish folk music tradition.
Karen Mose Nørgaard – Vocals
Karen interprets the traditional songs and poems of Denmark. She grew up in the village of Tommerup on the island of Fnen and was taught to sing folk songs by her mother from a very early age. Today Karen is living in Odense, where she attends the Carl Nielsen Academy of Music, studying singing and folk music. Since 1999 she has appeared with Lang Linken, Dudelidej and Stafivia.
Anja Præst Mikkelsen – Bass Clarinet & Clarinet
With her bass clarinet Anja has cultivated a quite special sound of rhythmical ostinatos and thrilling bass lines. Anja graduated in 1998 from the Music Academy in rhus as a music teacher and from the Carl Nielsen Academy – folk music stream in 2002. Anja is also known from the bands Dug, Stafivia and Tek3.
Jesper Vinther Petersen – Accordion
Jesper plays the part of the accompanist in the band. With his rhythms and daring chords he contributes to the group's unique sound. Jesper graduated in 2002 from the Carl Nielsen Academy of music – folk music stream, and is also known from his work in Dug, Ostinat Expressen, Baltinget and with violinist Kristine Heebll.
Jesper Falch – Percussion
Jesper provides a steady and swinging rhythm base with his congas. His playing supports melody as well as accompaniment and ties the music together. In June 2000 he graduated from Center for Rhythmic Music and Movement in Silkeborg. Then he supplemented his studies with a diploma at the Royal Music Academy in Copenhagen. He now works as a freelance musician and music teacher. He is also known from Baltinget and the rock bands Hush and Zoe.
Phønix has won Two Danish Folk Awards for 2003 Five Nominations for its CD Pigen & Drengen and awards for Best Danish folk vocalist and best composer.
Pigen & Drengen (The Boy and the Girl) is Phønix's fourth album but it is the first release from the band to contain both vocal and instrumental music. The numbers on the album are a mixture of newly composed tunes and texts taken from the treasure trove of Scandinavian folk poetry and song. The texts add a whole new dimension to the unique Phønix style and sound. The title number "The Boy and the Girl" is a story about a young couple that meets on the dance floor.
Discography:
Udbrud (Phønix, 1998)
Live (GO' Danish Folk Music, 1999)
Pigen & Drengen (GO' Danish Folk Music, 2002)
Collage (GO' Danish Folk Music, 2004)
Folk (GO' Danish Folk Music, 2007)
Nu (GO' Danish Folk Music, 2014)
Groovy Guzheng (GO' Danish Folk Music, 2017)