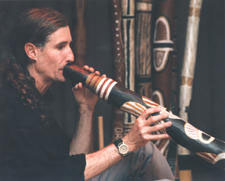 By sharing the stories and music of Aboriginal and European Australia,  artist and educator Paul Walking Stick Taylor helps bridge cultures. On his albums and in person Taylor delights in celebrating the culture of his homeland through story, song and didjeridu. He travels throughout the US, performing to all ages and conducting school residencies, combining storytelling and music with dance and painting. At senior centers, businesses, community halls and festivals, Taylor not only performs but also gets participants involved, whether it s creating a mural or singing along.
For Taylor, creating and performing traditional arts of Australia is more than just entertainment – it s also documenting and celebrating one of the world s fastest vanishing cultures. Taylor is mentored by Yidunduma Bill Harney, last male custodian of the Wardaman culture in Australia's Northern Territory. Now based in Laramie, Wyoming, Taylor returns to Australia on sabbatical each year to spend time with family and to travel and study with Mr. Harney.
Trained as a social worker, Taylor has spent his life traveling and experiencing cultures from around the world. "I have been blessed with close contact with Australia s Aboriginal people, the Filipino and Balinese traditional cultures of Asia, and the Lakota, Hopi and Navajo people of North America," Taylor says. Wherever his journeys take him, he studies and shares in rich traditions of song, dance and stories.
As a performing artist, Paul trained as an actor at the Royal Academy of Dramatic Art in London, England. He worked professionally as an actor, stage manager in Australia's regional theaters and as a clown in a circus show performing throughout England, Scotland and Wales.ᅠ
Taylor has been endorsed by the state Arts Councils of Texas, Wyoming, Utah, North Dakota, and South Dakota, and he has been honored for his work with Arts in Education by being appointed Adjunct Professor in the University of Wyoming, College of Education.
His CD Cooee! won four national awards, the NAPPA and Parent's Choice Gold Award 2003 for Storytelling, NAPPA Honors Award 2003 for Music, and a 2004 Storytelling World Award.