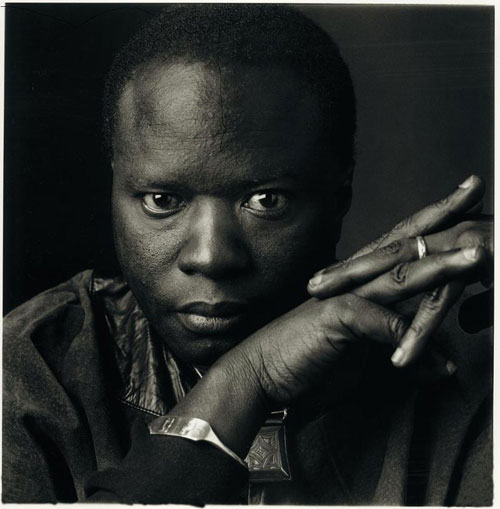 Omar Pene (born 1956 in Dakar) is the iconic lead singer of the Super Diamono. He was born in the working class neighborhood of Derkle, in 1956. Joining his first band, Cad, in 1975, he remained with the group for a few months. In the mid seventies (1975-1976), he joined the Super Diamono, one of the longest running Senegalese popular bands, similar to Orchestra Baobab and the Super Etoile of Dakar.
Recruited by Bailo Diagne, the first bass-player and a founding member of the group, Omar Pene stood out as the most natural fixture in the band. Along with his band members, Bassirou Diagne, Bob Sene, Aziz Seck, Lapa Diagne, Adama Faye, Abdou Mbacke and, later, Ismael Lo, already known as "l'homme orchestre" (one man band) due to his solo performances, they helped shape Senegalese contemporary music.
During the 1980s, in Dakar, there were two dominant types of music fans, the ones attracted by the frenetic and highly syncopative Mbalax of the Super Etoile, who frequented Djender and later on Thiossane night club; and those who loved the progressive bluesy-funky- soulful brand of local fusion of Super Diamono- who filled the Balafon Club located on the other side of town, near the Port Autonome de Dakar.
Although Omar Pene and Youssou N'dour, always maintained an healthy and lively artistic competition, their supporters pledged a loyalty only seen among opposing football fans (soccer). In many ways, both used the Mbalax, which is almost unavoidable, once the Sabar is involved, but they did it differently.
Over the years many of the group's original members went on to other things, Omar Pene stayed; and to this day- even as he is now enjoying his solo journey he uses the Super Diamono, as a backup band.
In 2009 he released the all acoustic album Ndam.
Omar Pene established himself as a "conscious singer," instead of indulging in praise songs- as many of his contemporaries did in honor of the riches and famous, he maintained a repertoire of socially engaged and sensitive songs. To this date, he has released dozens of hits in more than thirty albums and cassettes.
Discography:
Greedy Dayaan (Disques Griot GR 7604, 1984)
Ndaxami (MCA 303, 1984)
Mam (Celluloid CEL 8011, 1984)
Cheick Anta Diop (Celluloid 08530-1, 1989)
Nila (Celluloid 66909-2, 1992)
Fari (Stern's STCD 1051, 1993)
20 Ans Deja (Africando Sylaf 9602, 1996)
Tiki Tiki (Africando Sylaf 96017, 1997)
Direct from Dakar (WOMAD Select WSCD102, 1997)
Nanga Def (Africando Sylaf 96030, 1998)
Diamono Groove (Africando Sylaf 96101, 2000)
Integration Africaine (Sonodisc CDS 7062, 2000)
25 Ans (Night & Day NDCD 083, 2001)
Myamba (2005)
Ndam (Aztec Musique, 2009)