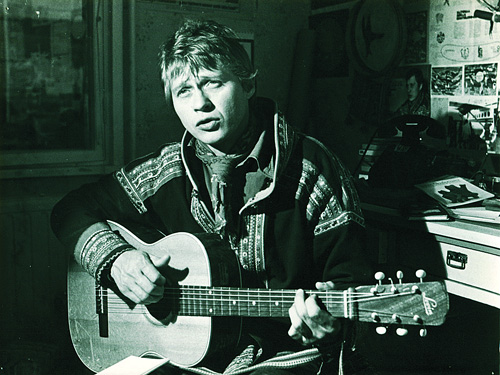 Nils-Aslak Valkepää, called Aillohas by his fellow Samis, was born on March 23, 1943 in Enontekiö, Finland. He was one of the trail-blazers of traditional and modern Sami music since the 1960s.
Aillohas was one of the first artists to present traditional Sami joik on stage. He performed and toured throughout the world, and encouraged other joikers to perform in public. In addition to his activities as a performer and musician, he composed new music, was an author and worked with the fine arts.
His multimedia productions were exhibited widely. He collaborated with Finnish jazz and folk music fusion musicians to make several innovative recordings, and some of his compositions have become classics of Sami music. His Bird Symphony (Goase Dusse) received the Prix Italia Radio Music Award in 1993, and was the only musical entry to receive an award that year.
He opened the 1994 Winter Olympics in Lillehammer by performing the Olympic Welcome Joik (Dalveleaikkat). He composed film and theatre music, and his music has been used extensively in television programs.
Nils-Aslak Valkeapää appeared in Mike Oldfield's album The Songs of Distant Earth (1994).
Nils-Aslak Valkepää passsed away on November 26, 2001 in Espoo, Finland.
Discography
* Baivi, Ahcazan (DATCD 4, 1988)
* Eanan, eallima eadni (DATCD 5, 1989)
* Sami, luondu, gollerisku (DATCD 11, 1992)
* Sampi Lottazan (DATCD 13, 1992)
* Goase Dusse (DATCD 15, 1994)
* Dálveleaikkat (1994)
* Vuoi, Biret-Máret vuoi! (2009)
* Alit Idja Lahkona (2010)