There are timbaleros (timbales players) in Latin music and then there are timbaleros. Nicky Marrero is the master at his work! Nicky Marrero has performed on hundreds of recordings, especially for Fania Records in New York City. Nicky Marrero is "El Monstruo del Timbal", the Monster of the Timbales.
Nicky, has the ability of getting many tones out his drumheads, playing with preciseness and action. Nicky Marrero is always exciting on stage and bringing light to the show. You know that when he plays, it is Nicky Marrero up there on stage soloing, A-1 plus, like a Monster Timbalero should.
With years of playing, practice and patience with the drums, whether it is timbales or congas, Nicky Marrero brings a solo swing to the orchestra, to compliment the musicians and the coro (chorus) in the orchestra. This is what Nicky Marrero does on stage if you observe him.
Nicky is always getting better, as he ages, like a fine wine!
Nicky has performed with all the legends; too many to name, also a member of the legendary Fania All Stars and is a very humble musician.
Let's hear what Nicky has to say about himself, and his love for the timbales, and what he has to say to the new young and upcoming timbaleros!
Nicky where were you born, your birth name and where were you raised?
I was born in St. Francis Hospital in the Bronx on June 17th 1950 and raised in the Bronx. My Name is Nicholas Marrero Jr.
Was your family musical in any way?
My uncle Chuito Velez played guitar, piano and the accordion. He had his own Orchestra and would sometimes join the family on weekend parties. Like in most Puerto Rican families there was always something to celebrate or just get together to dance and party. My Brother Luis Sánchez played guitar and bass for many years with my uncle as well as with Belisario López y su charanga, the Plata Sextet, and Orlando Marin and his Orchestra.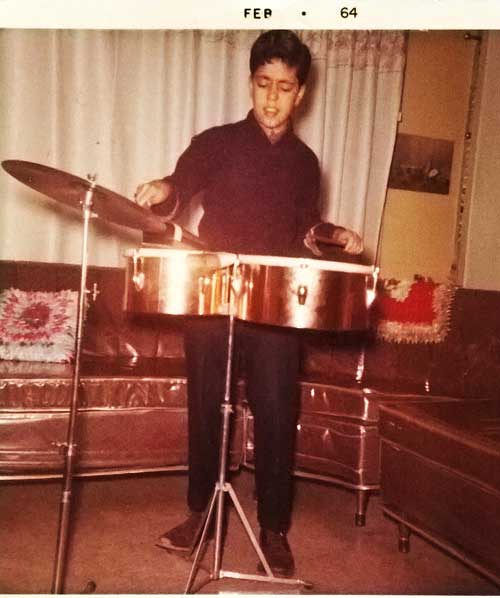 When was the first time you heard a cowbell and when was the first time you listened to a mambo-ish or salsa type music or Latin music?
Quiet simply, at home! Plus, by parental composition, Puerto Ricans love their Spanish radio stations to keep up the latest cleaning products, soap operas, what movies are showing, what theaters are having live vaudeville acts, then If there is time left in the day—–The News!! There was Spanish music in all of them, from different Latin countries. Diversity!
What was the first band you were a member of professionally?
Orchestra Caribe, meaning I got paid. The going rate at that time for a 14 year old, was 10 to fifteen dollars, if the promoter didn't high settled it out of town. And there were 12 of us plus the band boy, who just wanted to be part of the group, the guys just looked the other way, except maybe sometimes?
Who are past or present your favorite timbal players, conga players and bongo players?
Me, Me, and Me! Seriously, on timbales, Orestes Vilató and Orlando Marin. On conga, Orlando Vega and Johnny Rodriguez. On bongo, Johnny Rodriguez, Bobby Allende, and Orlando Vega.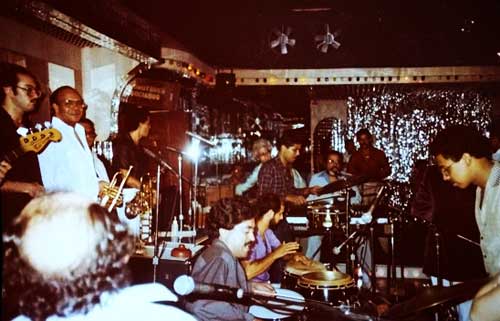 Nicky, what was you favorite band to play with, or you can mention a few?
Eddie Palmieri, Machito, Tito Puente, Fajardo, Tipica 73, Dizzie Gillespie, Jorge Dalto, but then I was part of at least forty other bands, and for different extended times. There's not enough paper to explain it all but in a book.
Who would be your all-time favorite Latin orchestra leader?
Eddie Palmieri.
What is some advice that you would tell young timbaleros or percussionist who study the art of drumming?
To listen to the past records, and learn about each orchestra and its members and their backgrounds and where they came from and to follow their carriers. Learn to listen, and listen to learn!!! Practice the art of imitation to the exact with discipline. Learn that you are your greatest competition!! Broaden the many options of how to practice, they become limitless, as are your abilities.
Practice!!!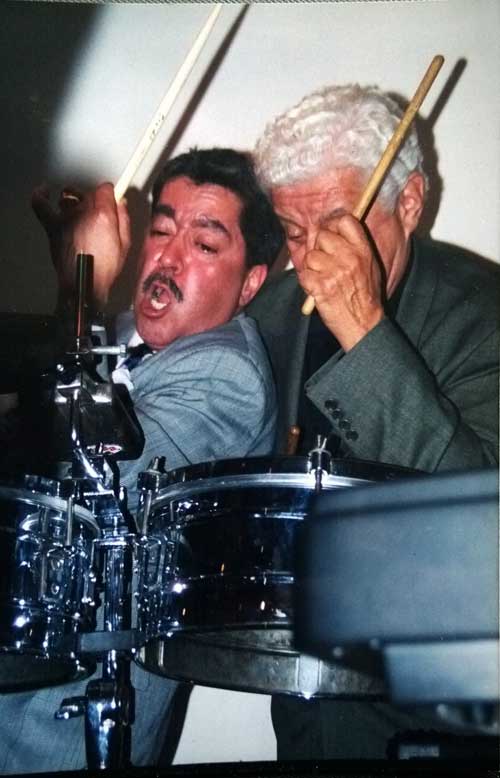 The Big 3, Machito, Tito Puente Sr. and Tito Rodriguez Sr., what is your opinion of them?
They were my heroes, and still are. I wouldn't know whether to dance or play! There were many excellent dancers in my family, and I picked up on it very quickly, and became a very good dancer myself. It sometimes boggles me how some percussion players play and don't know how to dance—really! That's like a dentist pulling out teeth without first taking x-rays! Huh!
What is your all time favorite record or records?
Tito Rodriguez, Tito Puente, Machito, Cal Tjader, Cortijo y su Combo, the charangas of Aragon, Fajardo, Arcano, Estrellas Cubanas, La Sensacion,Johnny Pacheco, Ray Barreto, Charlie Palmieri, extra, many more. Conjuntos—Arsenio, Chapottin, Modelo, Roberto Fas, Rumbavana, Kuvavana, Estrellas de Chocolate, etc.
What is one or two of the favorite recording you performed on?
Unfinished Masterpiece by Eddie Palmieri; The Sun of Latin Music by Eddie Palmieri, the first to ever receive a Latin Grammy and the other 298 of them.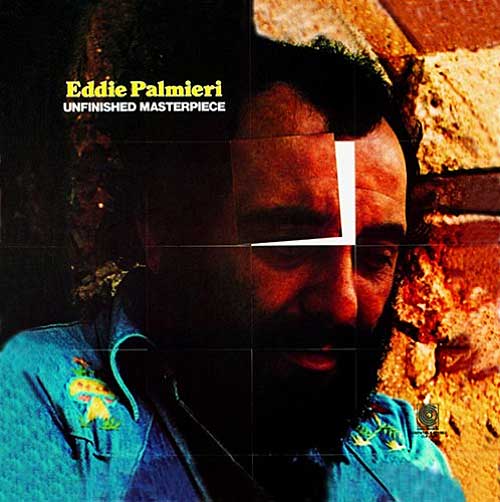 Well, Nicky do you remember when you went to get your cha cha bell repaired by craftsman Pete Lugo. Let me ask why did you insist in getting that particular bell fixed and not just buy another new bell?
This bell was made with a special gage of a certain type of metal, and it had to be treated just the right way or it would ruin the bell forever. The sound of the bell became part of who I am, the study I put into investigating and analyzing their sounds and the types of material they are made of.
So tell us about your great current projects that you're on.
"Harlem River Drive" with Eddie Palmieri and "Indestructible" CD and documentary with Diego El Cigala.
Well, what are the future plans for Nicky Marrero musically and otherwise?
I am working on to fulfil my dream of starting my own project (orchestra) and record.
Have you seen the music scene changing somewhat and what do you think of that?
To bring it back to the dancers, with quality entertainment. We need more clubs of quality!!
Who are or were your favorite musicians to play with. Give us some names?
Nelson Gonzalez, Jimmy Bosch, Eddie Palmieri, Johnny Rodriguez, Willie Rodriguez and many more.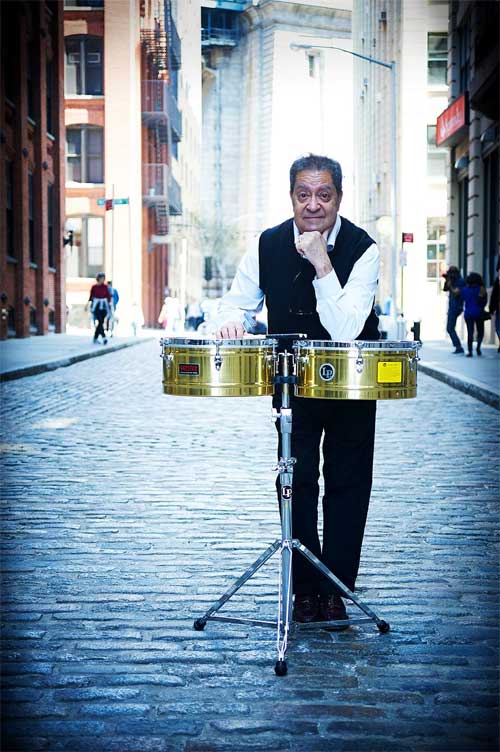 Now you tell us something Nicky
We need more in depth professional interviews such as yours. Also more radio stations with quality Latin cultural music past and present, with knowledgeable radio personalities!!
—
I would like to thank Nicky Marrero for his precious time, when I approached Nicky to this interview he was flying out to Lima, Peru with the Eddie Palmieri Orchestra! Thanks Nicky! El Monstruo del Timbal!