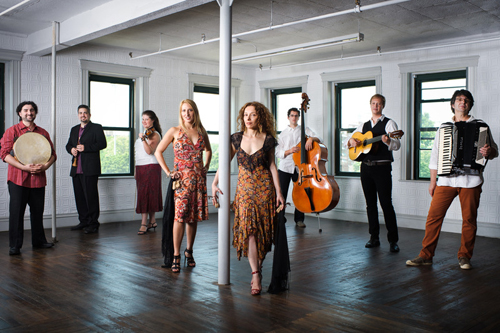 Newpoli is a group of skilled musicians who specialize in southern Italian folk music, primarily from the regions of Campania and Puglia. Their music crosses through time culture and musical styles. The South of Italy has a multicolored past with influences from northern Africa, the Middle East and ancient Greece. These influences can still be heard in the traditional melodies and rhythms of the pizzica, tarantella and other musical genres of the South.
The group was founded in 2003 by directors Carmen Marsico, Angela Rossi and Björn Wennås. Newpoli is an eight-piece ensemble that has performed throughout the United States. In 2008 Newpoli made its European debut at Diacetum Festival in Tuscany, Italy.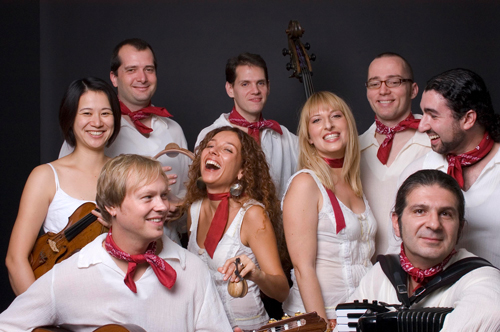 Newpoli released its self-titled debut album Newpoli in 2008. In 2012 the band issued Musica di Natale, a recording of traditional Italian Christmas music. Its third album Tempo Antico came out in 2013. Nun te vutà came out in 2015.
Members Include:
Carmen Marsico – lead vocals
Angela Rossi – lead vocals
Björn Wennås – chitarra battente, mandola & classical guitar
Fabio Pirozzolo – tamburello & vocals
Jussi Reijonen – oud, mandola & classical guitar
Daniel Meyers – zampogna, ciaramella & recorders
Karen Burciaga – violin
Jeff McAuliffe – bass
Discography:
Newpoli (Beartones Records, 2008)
Musica di Natale ( Beartones Records, 2012)
Tempo Antico ( Beartones Records, 2013)
Nun te vutà ( Beartones Records, 2015)
website: http://www.newpolimusic.com