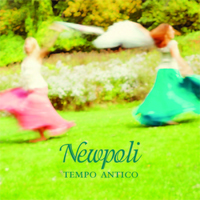 Newpoli, a group formed by Italian musicians who studied jazz at Berklee College of Music, has a new album titled Tempo Antico. Over the last years, the eight members of Newpoli have researched the tarantella-pizzicas, tammuriatas, villanellas and canzones of the Campania, Calabria and Puglia regions of Italy.
"Rediscovering folk music was a shock, no one expected it," acknowledges vocalist Carmen Marsico, one of the musicians who started Newpoli in 2003. "Sometimes you have to go to another country to discover your culture."
"We focused on older songs for Tempo Antico," music director Bjorn Wennas clarifies. "Some of the material here is from the 1500s and it's often done by early music groups. We wanted to give it more of a folk spin; that's how we picture they'd have played it back then."
"Some of the pizzicas, they don't even know how old they are. Some could be traced back to when the Greeks were in that part of Italy," Wennas says.
Two of the ballads on Tempo Antico were written in the early 1900s, in the classic Neapolitan style made so popular by the great tenor, Enrico Caruso. "He actually made the Neapolitan Canzone famous in the United States, using many of them as encores after his performances at the Met," Wennas adds.
Tempo Antico was recorded live in a church, with only "a couple of percussion overdubs – we wanted a lot of percussion – and some backing vocals. Live there's so much energy, not like in the studio, and we wanted to capture that. And what we've tried to do is show all of this as folk music. So often, the ways it's been presented in the past, it's like having gospel performed by an opera singer."
Newpoli released its self-titled debut album, Newpoli, five years ago. Last year the band put out Musica di Natale, an album of traditional Italian Christmas music.
Author:
World Music Central News Department
World music news from the editors at World Music Central