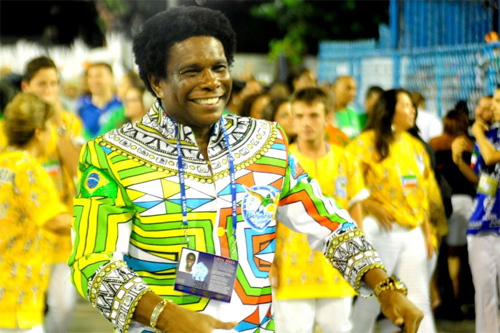 Luiz Feliciano Antonio Marcondes, better known as Neguinho da Beija-Flor, was born in Nova Iguaçu, Brazil on June 29, 1949. He is considered one of the most important Carnaval samba-enredo singers of all time.
Son of a trumpeter of the famous Orquestra Tabajara, Neguinho began his career in music when he was still a kid. At ten he won a contest by singing a samba by legendary carioca artist Jamelão.
His first album, "Vida No Peito" was released in 1980, followed by other 15 albums until 2000, featuring hits such as "Os Cinco Bailes da História do Rio" and "Aquarela Brasileira".
In 1991, he won the Sharp prize as Best Samba Singer. In 2001, Neguinho released his first live album, "25 Anos de Fé e Raiz", celebrating his 25-year career.
Since 1975 Neguinho has been affiliated with samba school, Beija-Flor de Nilópolis, in Rio de Janeiro, which became part of his artistic name. In 1976, his samba-enredo "Sonhar Com o Rei dá Leão" gave him the first title in the Rio Carnaval. Since then, the samba school has won 12 parade competitions, making Neguinho da Beija-Flor one of the most popular Carnaval figures of Brazil.