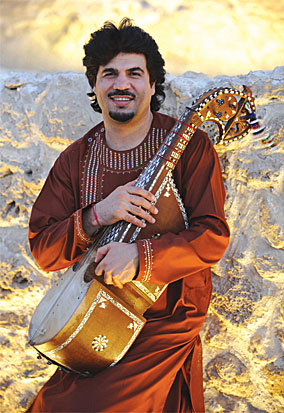 Homayun Sakhi is an outstanding Afghan rubab player, now living in Fremont, California, the American city with the largest concentration of Afghans.
Homayun Sakhi was was born in Kabul in 1976. In Kabul he studied the rubab under his father, Ghulam Sakhi (heir to a musical lineage that began in the 1860s) in the traditional form of apprenticeship known as ustad-shagird.
In 1992, Homayun's family moved to Peshawar, Pakistan, a refuge for many Afghans from the chaos that enveloped their country following the 1979 Soviet invasion. The unofficial headquarters of Afghanistan's emigrant music community there was Khalil House, an apartment building where thirty or more bands established offices.
After the fall of the Taliban in 2001, many Afghan musicians in Peshawar returned to Kabul, but Homayun emigrated to the United States, settling in Fremont, California.
Homayun quickly established himself as a leader of the local musical community in Fremont. He opened a school to teach Afghan music to children, recorded compact discs of popular Afghan songs, and became a sought-after performer, appearing together with Toryalai Hashimi, a tabla player and well-known exponent of Afghan music who had also grown up in Kabul. But while continuing his community activities, Homayun devotes as much as eight hours a day to practicing the rubab.
His Music of Central Asia Vol. 3: Art of the Afghan Rubab album includes tabla player Taryalai Hashimi. The CD version contains a 32-page color booklet with photos along with a DVD featuring an introduction to the Music of Central Asia series, a 24-minute film, interactive glossary, and map.
Rainbow, part of the same series, is a totally different concept. Here, Homayun Sakhi collaborates with the Kronos Quartet and the Alim Qasimov Ensemble.
He has composed for the Kronos Quartet and the Berlin Philharmonic Orchestra, and appeared at prestigious venues and festivals, including Carnegie Hall, Paris's Theatre de la Ville, the Smithsonian Folklife Festival, and the Fes Festival of World Sacred Music.
Discography:
Music of Central Asia Vol. 3: Art of the Afghan Rubab (Smithsonian Folkways, 2006)
Rainbow: Music Of Central Asia Vol. 8 [CD + DVD] (Smithsonian Folkways, 2010)