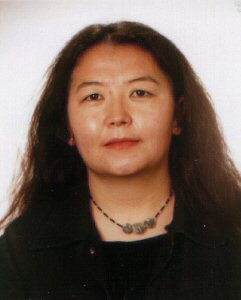 Otgonbayar Chuluunbaatar was born 1969 in the Altai Mountains in Western Mongolia, where she lived with her nomadic family. Since her youth Otgonbayar is known in her homeland as a singer. Already at a young age she used to tour through Mongolia with the Ulgeriin Dalai Ensemble, and also performed at the State Opera and Ballet Theatre and the National Academic Drama Theatre in Ulaanbaatar. She was invited to participate in the recordings of the Collection of the Best Mongolian Songs (Mongolian Shildeg Duu No.4) and won several awards. Performances in Japanese TV, Mongolian, Japanese and Polish Radio.
Otgonbayar Chuluunbaatar belongs to the Zakhchin tribe, an ethnic minority with a population of 25.000 people, who speak their own dialect and keep their traditions alive up to today. An important part of Zakhchin culture is their music, which differs from that of the Khalkha majority. For generations the Zakhchin songs have been passed on orally by a few singers.
In the last years, the life of the Zakhchin people has greatly changed under the influence of the capitalistic market reforms. The youth is more interested in Western music, and many move to the city in search for a better life. Consequently, as the Zakhchin songs have never been studied nor written down, there is now a great danger that this musical treasure will be lost. For these reasons she collects material in the steppes of her homeland. At times she had to travel several days on horseback in order to visit the last still existing singers on the summer pastures in the Altai Mountains at an altitude of 3000 m.
Discography:
Zastiin Nogoodoi – Tribal Zakhchin Music of Western Mongolia (self release, 2007)