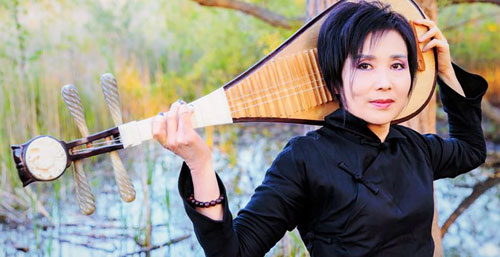 Min Xiao-Fen is a virtuoso on the pipa. She was a pipa soloist for the Nanjing, National Music Orchestra, and was winner of numerous Pipa competitions throughout China.
Known for her virtuosity and fluid style, she has received acclaim for her classical, contemporary and Jazz performances. Min's solo recording, The Moon Rising was hailed by BBC Music Magazine as one of the best CDs of 1996. Her recording Viper – Improvisations with Derek Bailey was one of the Wire's albums of the Year in 1998. She also premiered Tan Dun's Peony Pavilion, an opera with director Peter Sellars.
Min emigrated to the United States in 1992.
Discography:
The Moon Rising (Cala, 1996)
Spring River Flower Moon Night (Asphodel Records, 1997)
Zhou, L.: 8 Chinese Folk Songs / Poems From Tang / Soul (The Flowing Stream – Chinese Folk Songs and Tone Poems) (Delos, 1998)
With Six Composers (Avant, 1998)
The Floating Box (New World Records, 2005)
Huang, Ruo: Drama Theater Nos. 2-4 / String Quartet No. 1, "The 3 Tenses" (Naxos, 2009)
Dim Sum (Blue Pipa, 2012)
Mao, Monk and Me (2017)