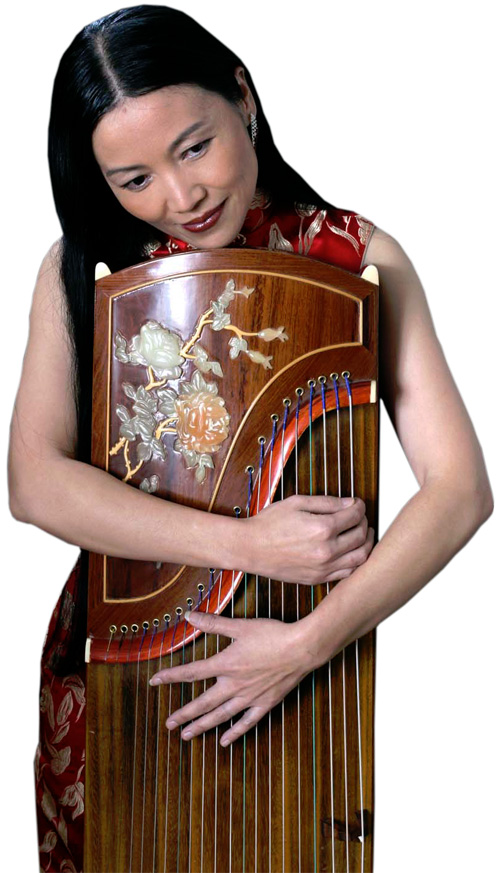 Mei Han is a zheng virtuoso. Presenting music deeply rooted in over two thousand years of Chinese culture, Han is transforming the zheng into a powerful tool for the contemporary international concert stage. She is a consummate performer, appeared with leading artists around the world in a multitude of musical genres from symphonic, chamber and New Music to traditional and World music, or from Creative Improvisation to electronic.
Han studied with China's top zheng masters Zhang Yan and Gao Zicheng, and performed as a featured soloist for over ten years with the prestigious Beijing Zhan You Ensemble, the premiere ensemble of its type in China. Han went on to become a rare blend of performer and scholar with two Master's degrees in ethnomusicology, from the Musical Researchb Institute of the Chinese Arts Academy in Beijing (1995), considered internationally the most prestigious institute for Chinese music studies, and from the University of British Columbia (2000).
Han wrote the zheng entry for the New Grove Dictionary of Music and Musicians, the premiere music reference book, and has published articles in numerous music journals in both English and Chinese. Han is the director of the Chinese Music Ensemble at the University of British Columbia, founded the Chinese Ensemble at the University of Michigan in Ann Arbor, and has lectured on Chinese music in many universities and music institutes around the world.
A dynamic performer and innovator, Han has been exploring new directions for solo zheng and unique combinations of zheng with other instruments in a contemporary experimental aesthetic. Works written for, and premiered by, Han include the world's first work for zheng and harpsichord by Janet Danielson performed at the Open Ears Festival 2005; the first work for zheng and string quartet by John Oliver, premiered at the Vancouver Chamber Music Festival 2004 with the Borealis String Quartet; and the first original zheng concerto by Dr. John Sharpley, performed with the China Philharmonic Orchestra in Beijing, 2003.
A commanding virtuoso, Han regularly performs challenging new works by contemporary international composers including compositions by Minoru Miki, Yuji Takahashi, and Barry Truax amongst others.
Han's career spans Asia, Africa, Australia, Europe, and North America. Her performance highlights include the Kennedy Centre and the Smithsonian Institutions (with Orchid Ensemble). Together with Raine-Reusch, they toured to prestigious venues in Australia (WOMAD), China, Czech Republic, Japan, Malaysia, Singapore (WOMAD), and South Africa.
As an accomplished improviser, Han has performed at major international jazz and experimental music festivals, including the Vancouver International Jazz Festival, Atlantic Jazz Festival, International Festival de Musique Actuelle de Victoriaville and the Vancouver New Music Festival.
Han's first solo CD, Outside the Wall of traditional and contemporary works, received critical acclaim, with airplay on CBC (Canada), BBC (Great Britain), and ABC (Australia). Her collaboration with composer and multi-instrumentalist Randy Raine-Reusch on Distant Wind for zheng duet, and Road to Kashgar with the Orchid Ensemble were nominated for Juno Awards (Best Global).
Han recorded Ume with piano luminary Paul Plimley, creating a rich and original musical language in contemporary jazz aesthetic.
Mei Han was one of the members of Vancouver-based Chinagrass ensemble Red Chamber.
In 2016, Mei Han moved to Tennessee (USA) to direct the Center for Chinese Music and Culture at Middle Tennessee State University.
Discography:
Outside the Wall
Distant Wind, with Randy Raine-Reusch
Road to Kashgar, with the Orchid Ensemble
Ume, with Paul Plimley
Redgrass, with Red Chamber (Za Discs, 2009)
Gathering (Asza Discs ZAN17, 2014)
Classical & Contemporary Chinese Music (ARC Music, 2016)
Web site: www.mei-han.com