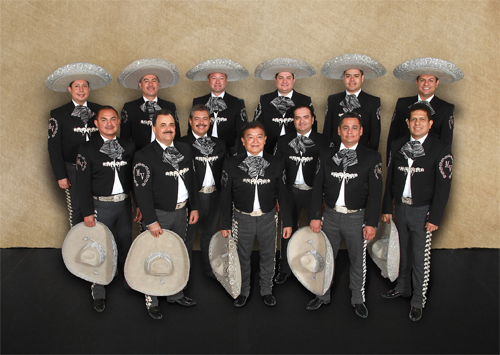 Mariachi Vargas de Tecalitlan, founded in 1898 by Gaspar Vargas in Tecalitlan, Jalisco is considered the most important and influential group in the history of mariachi music, playing an integral role in the evolution of the genre.
They have entertained countless heads of states throughout the world and were the first Mariachi to perform at the White House. Mariachi Vargas is the only mariachi that's been allowed to perform at the Pyramids of Egypt.
Mariachi Vargas appeared on Linda Rondstadt's award-winning album Canciones de Mi Padre. Rondstadt later toured with the group, exposing international audiences to original Mexican mariachi music.
The Houston Grand Opera collaborated with Mariachi Vargas' acclaimed leader, José "Pepe" Martinez, to write the score and collaborate with librettist Leonard Foglia in creating the world's first mariachi opera, "Cruzar la Cara de la Luna" ("To Cross the Face of the Moon"), which was presented to sold-out venues in Paris, Houston, Chicago and San Diego.
Mariachi Vargas has produced over 50 recordings that include sones huastecos sones, waltzes, popurris (medleys), polkas, huapango, and cumbias.
Selected Discography:
Danzones (RCA, 1964)
Mariachi Colección Original (BMG Latin, 1999), recordings from 1958–1968.
Lo Mejor de lo Mejor (BMG Latin, 2000) recordings from 1958–1967.
Tradicionales de México Lindo y Querido (Lideres, 2001).
Sinfónico With Orquesta Filarmónica del Estado de Querétaro (2001)
5ta. Generación (2002)
Sinfónico II with Orquesta Filarmónica del Estado de Querétaro (2002)
Penas, Desengaños y Amores (2004)
Y aquí estamos (2008)
Mariachi Vargas de Tecalitlán 1959 (Vintage, 2015)
El Gran Concierto De Gala Del Mariachi (2016)
Mariachi Vargas De Tecalitlan – Tesoros De Coleccion, 3CD set (Sony Music, 2017)