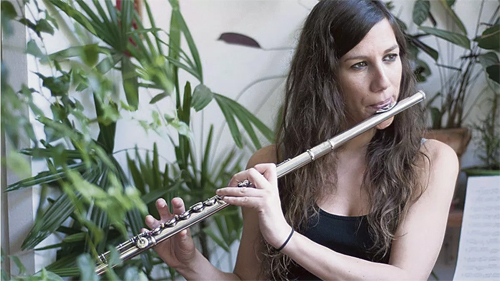 Spanish musician María Toro was born in 1979 in La Coruña, Spain. She is a respected flutist and flamenco-jazz composer whose career path has taken her across many countries in different continents over the years. Seven years after moving from her native Galicia to Madrid, in 2009, she joined an international flamenco company in Zurich, Switzerland.
Afterwards, she crossed the Atlantic to form part of the flamenco and jazz movement in New York City. Later, she settled in Rio de Janeiro in order to integrate her music with the effervescent musical sounds of the city.
In Switzerland, she started to compose her first album, A Contraluz, finally recorded in the United States in 2014 with renowned jazz performers in New York City. In 2016, while living in Rio de Janeiro, she recorded her second album, Araras, accompanied by great performers such as Hermeto Pascoal, who provided Brazilian rhythm to her proposal.
In 2017, Maria Toro returned to Madrid, where she continues composing and performing her musical repertoire throughout Spain and Europe.
Discography:
Jose Romero Project (2012)
A Contraluz (Jazz Activist, 2014)
Araras (Jazz Activist, 2018)