Luar Na Lubre was founded by multi-instrumentalist Bieito Romero (bagpipes, tin Whistle, punteiro, diatonic accordion; guitarist Daniel Cerqueiro; percussionist Xulio Varela; bassist and mandolinist Roberto Douro; and piper and percussionist Xan Cerqueiro.
Although the ensemble has had various lineup changes, it is one of the longest-lasting Galician folk groups in the past decades. Most of the group's music are new arrangements of traditional Galician music found in old books and collected by doing field research.
Luar Na Lubre adds its personal touch to Galician music by combining traditional instruments with instruments from other traditions and by composing original songs. The band uses fiddle, guitar, flutes, bouzouki, tambourines, bodhrán, pandeiro (Galician frame drum) harp, Galician pipes, accordion, and zanfona (hurdy gurdy).
Luar Na Lubre accomplished several milestones in the past few years. With their albums, Plenilunio and Cabo Do Mundo they sold more than 80,000 copies of each. The band also collaborated with English artist Mike Olfield, performing on one of his tours.
Mike Oldfield recorded on his album Voyager the Luar Na Lubre song "0 Son Do Ar", which he called "The Sound of the Sun". This particular song is what has brought the group considerable international recognition.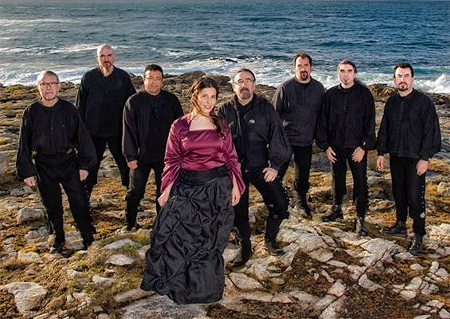 In 2005 singer Rosa Cedron left the group. She was replaced by Portuguese singer Sara Louraço Vidal, who stayed with the band from 2005 to 2011. Sara was substituted by Paula Rey, who was lead vocalist during 2011-2016. The current singer is Irma Macías.
Discography:
O Son Do Ar (Edigal, 1988)
Beira – Atlántica (Sons Galiza, 1990)
Ara – Solis (Sons Galiza, 1993)
Plenilunio ‎(WEA, 1997)
Cabo Do Mundo (WEA, 1999)
Espiral ‎(WEA, 2002)
Hai Un Paraiso ‎(WEA, 2004)
Saudade ‎(WEA, 2005)
Camiños Da Fin Da Terra ‎(Warner Music Spain, 2008)
Ao Vivo ‎(Warner Music Spain, 2010)
Mar Maior (Warner Music Spain, 2012)
Extra : Mundi ‎(Warner Music Spain, 2015)
Ribeira Sacra ‎(Warner Music Spain, 2018)