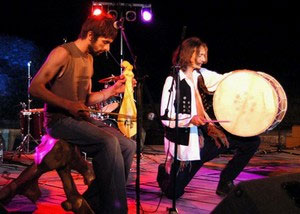 Mojmir Novakovic is in a constant pursuit of all that is unpredictable in the Croatian roots music scene. He is the frontman of the legendary Croatian world music group Legen. But he also wants to explore other possibilities so he got together with another group of musicians, Kamenko Culap, Ivo Letunic and Kresimir Oreski, to form a new group named Kries.
In the ancient Croatian language, Kries means "bonfire". In many cultures people used to light bonfires to get together, sing and dance and to celebrate life.
The intention of Kries is to revive little sleeping flames of the ancient songs, the sounds of the forgotten traditional musical instruments, and to make them a part of the present, thus starting a new voyage of adventure.
In 2006 two more people joined Kries, Mario Rasic on bass guitar and Hrvoje Marcelic-Kiwi on electric guitar. The first result is an adaptation of one traditional song from Medjimurje, gorgeous green region of Northern Croatia. Drums and percussions as usually, Kresimir Oreski. Vocal and mus. production.
Selo Na Okuke (Village Tracks) is Kries' third album, released by Riverboat Records. it was recorded at Dubrovnik's Marin Drzic Theatre.
Discography:
Ivo i Mara (Kopito Records, 2004)
Kocijani (Kopito Records, 2008)
Selo Na Okuke (Riverboat, 2016)