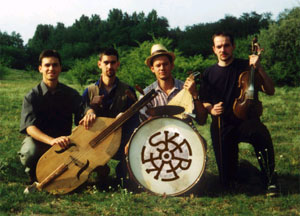 Kerekes Band was formed in 1995 in Hungary, and they became a well-known group in dance-houses. Their aim is to perform folk music from Moldova (a special mixture of Hungarian, Romanian, Serbian and Turkish folk music) and their own arrangements are based on these authentic tunes with a high standard.
The band started to play authentic folk music from Gyimes and Moldova. They became Young Masters of Folk Art in 1998, Award of the Ministry of National Cultural Heritage. After that period they discovered and accepted the influences of other music genres. In this way Kerekes created a brand new, free-style performance of this basically lively folk music. Although the group could be considered a world music act, the musicians prefer the term ethno-funk. There are influences from the freedom of jazz, the explosive rhythm of funk, the melodiousness of Balkan music and the pure beauty of folk in it.
Their original concerts appeal to a wide audience. The performances of Kerekes at The Academy of Music, in the Budapest Arena, at the Milleneris Park, and other venues are all very popular. They are frequently invited to foreign countries like Sweden, Belgium, Germany, Switzerland, Poland or Russia.
Musicians: Fehér Zsombor on furulya (shepherd's flute), kaval; Námor Csaba on koboz; Csarnó Ákos on brácsa (viola) and jew's harp; Fehér Viktor on drums; and Kónya Csaba on bass.
Discography:
Hungarian Folk Music From Gyimes and Moldva (Periferic Records, 2001)
Fütyül a Masina (Periferic Records, 2003)
Pimasz (Kerekes Band, 2006)
Fel a Kalappal! (Kerekes Band, 2008)
What the folk? (Kerekes Band, 2011)
Folklore Man (Kerekes Band, 2013)
Live at A38 (Kerekes Band, 2014)
Argo 2 Soundtrack Album (2015)
Back to Følk (Music from Følkland) (2016)