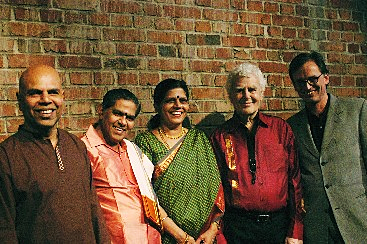 Amalgama was the amazing result of the collaboration between Spanish Flamenco and Jazz musicians and the renowned Karnataka College of Percussion, from India.
The idea behind the project was to blend two cultures with a common background: Gypsy Flamenco (it is believed that Gypsies originally came from India) and Indian music. Flamenco vocals (which have some similarities with Indian vocals), rhythms (especially the palmas or hand clappings) and guitars were mixed with Indian vocals and percussion.
The musicians involved were: T.A.S. Mani (mridangam), Ramamani (Indian vocals, konakol), Sheshikumar (kanjira), Tunsi Beyer (ghatam, tabil), Xavi Turull (tabla, ghatam, berimbau), Juan Parrilla (flute), Jesús Losada (Flamenco guitar), Antonio Ramos (bass), Pau Martinez (congas) and Charo Manzano (Flamenco vocals).
The group only recorded one album titled Encuentro.