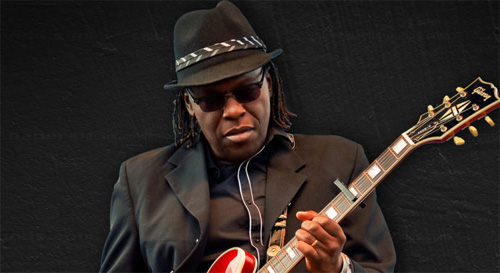 Guitarist and vocalist Joe Louis Walker was born December 25, 1949 in San Francisco, California. Today, Joe Louis Walker is a leading blues figure.
Walker uses electric and slide guitar to deliver his music, rooted in blues, soul, gospel and R&B.
"I never was one of those guys to sit down and try to copy B.B. King note for note, or Albert King, or Freddy King. I enjoy the hell out of 'em but I figure if I'm gonna do this here I might as well do it and put my own stamp on it," said Joe Louis Walker.
In 2013, Joe Louis Walker was inducted to the Blues Hall of Fame.
Discography
Cold Is The Night (Hightone 1986)
The Gift (Hightone 1988)
Blue Soul (Hightone 1989)
Live At Slim's Volume One (Hightone 1991)
Live At Slim's Volume Two (Hightone 1992)
Blues Survivor (Polydor/Polygram 1993)
JLW (Polydor/Polygram 1994)
Blues Of The Month Club (Polydor/Polygram 1995)
Great Guitars (Polydor/Polygram 1997)
Preacher And The President (Polydor/Polygram 1998)
Silvertone Blues (Polydor/Polygram 1999)
In the Morning (Telarc 2002)
Pasa Tiempo (Evidence Music 2002)
Guitar Brothers (JSP Records 2002)
She's My Money Maker (JSP 2002/3)
Ridin' High (Hightone 2003)
New Direction (Provogue 2004)
Playin' Dirty (JSP 2006)
Witness To The Blues (Stony Plain Music 2008)
Between A Rock And The Blues (Stony Plain Music 2009)
Blues Conspiracy: Live on The Legendary Rhythm & Blues Cruise (Stony Plain Music 2009)
Hellfire (Alligator Records 2012)
Hornet's Nest (Alligator Records 2014)
Everybody Wants a Piece (Provogue, 2015)
website: www.joelouiswalker.com