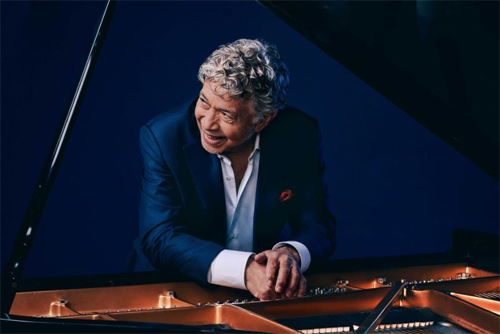 Monty Alexander was born and raised in Kingston, Jamaica where he began piano lessons at the age of six. As a youngster, he was often invited to sit in with the bands of prominent musicians in Jamaica. While still a teenager, he had the opportunity to enjoy the performances of Louis Armstrong and Nat "King" Cole at the Carib Theater in Jamaica. His style of playing was deeply affected by their joyful gospel of jazz. He eventually formed a band called "Monty and the Cyclones," which charted several songs on the Jamaican hit parade from 1958 to 1960.
In the summer of 1963, Monty played in Las Vegas, Nevada with Art Mooney's orchestra. He was observed by Jilly Rizzo and his friend, Frank Sinatra. Jilly hired him to work in his club in New York City. At Jilly's, he played for and accompanied many well-known personalities of the entertainment world, including "the chairman of the board" himself, Mr. Sinatra. It was at Jilly's that he met Milt Jackson, who hired Monty to work with him. Soon thereafter, he began an association with bassist Ray Brown that lasted for many years. In addition, he performed with other jazz giants, including Dizzy Gillespie, dark Terry, and Sonny Rollins.
Since 1964, Monty has recorded with other artists and played on movie soundtracks and albums with Quincy Jones. He worked for producer/director Clint Eastwood on the film "Bird," about the life of Charlie Parker. In 1991, he assisted Natalie Cole in a tribute to her father, Nat "King" Cole. That album, "Unforgettable," won seven Grammy awards. In 1993, he had the honor of performing at Carnegie Hall in a tribute to the beloved jazz pianist Erroll Garner. In 1993 and 1994, he performed at the Montreux Jazz Festival in Switzerland with opera singer Barbara Hendricks in a program of Duke Ellington compositions. In 1995, he was back in Montreux with his all-Jamaican reggae group where he recorded a live album for Island Records, "Yard Movement." In August 1996, Monty was invited to the Verbier Festival in Switzerland to perform George Gershwin's "Rhapsody in Blue" with a full symphony orchestra directed by Bobby McFerrm. By 1996, Monty had recorded over 50 CDs under his own name and was frequently performing at leading festivals and music venues worldwide.
Alexander joined the Telarc label with the 1999 release of Stir It Up, an album that combined acoustic jazz and Jamaican reggae rhythm sections to interpret the music of the great Bob Marley. He was joined in he studio by the Jamaican reggae rhythm section known as Gumption. Gumption interfaced rhythmically with the jazz rhythm section, which included drummer Troy Davis and bassist Hassan Shakur. Telarc labelmate Steve Turre guested on trombone and conch shells. Stir It Up marked the beginning of a prolific period for Alexander on Telarc – one that continues to this day.
In 2000, he released Monty Meets Sly & Robbie, an album featuring Sly Dunbar and Robbie Shakespeare – reggae's most respected and experienced rhythm section. This summit meeting of multi-talented and multi-faceted players results in a vibrant combination of classic soul tunes, funky jazz and hardcore grooves.
Goin' Yard, released in 2001, was recorded live at Manchester Craftsmen's Guild in Pittsburgh, Pennsylvania. Goin' Yard united Alexander with a six-piece band of Jamaica's finest musicians, including special guest hand drummer Robert Thomas Jr.
Alexander's My America released in 2002, includes guest appearances by guitarist John Pizzarelli and vocalists Freddy Cole and Kevin Mahogany. The following year, he teamed up with his jazz trio – including bassist Hassan Shakur and drummer Mark Taylor – for the first time in five years for Impressions in Blue. The album is a celebration of the bluesier side of jazz, with eleven tracks that include favorites from the great American songbook, as well as few selections of more exotic origin.
Alexander revisited his roots with Rocksteady, a collaborative album with reggae guitarist Ernest Ranglin release on Telarc in 2004. The album is a tribute to the ska movement that flourished in Jamaica's Studio One (the island version of Motown) in the late '60s and early '70s and eventually spread throughout the world.
Live at the Iridium followed a year later. The live set, which also features bassist Hassan Shakur, drummer Mark Taylor and percussionist Robert Thomas, Jr., captures the energy and passion of Alexander's stage performance at the well-known New York City jazz club.
In the late summer of 2005, Alexander traveled to Bob Marley's Tuff Gong Studio in Kingston, Jamaica, with a crew of highly talented U.S. and Jamaican session players to record the brilliant follow-up to Stir It Up. Concrete Jungle, released in March 2006, is a set of twelve compositions penned by Bob Marley and reinterpreted via Alexander's jazz piano-oriented arrangements. The resulting union of musical sensibilities digs even deeper into the Marley legend.
In November 2018, Monty Alexander received a Doctorate of Letters degree from the University of the West Indies Mona Campus. "I am so proud to have received another great honor from my beloved native Jamaica," said Alexander, who in 2000 received the Jamaican National Award of Commander of Distinction. "It fills me with joy but I'm also very humbled."
Discography:
Alexander the Great (Pacific Jazz, 1964)
Monty Alexander (1965)
Spunky (Pacific Jazz, 1965)
Zing (RCA, 1967)
This Is Monty Alexander (Verve, 1969)
Taste of Freedom (1970)
Here Comes the Sun (MPS, 1971)
We've Only Just Begun (MPS, 1971)
Perception (MPS, 1974)
Rass! (MPS, 1974)
Love & Sunshine (MPS, 1974)
Unlimited Love (MPS, 1975)
Montreux Alexander (MPS, 1976)
The Way It Is (MPS, 1976)
Live in Holland (Verve, 1977)
Cobilimbo (MPS, 1977)
Estade (MPS, 1978)
Jamento (Fantasy, 1978)
So What? (Black & Blue, 1979)
Facets (Concord, 1979)
In Tokyo (Pablo, 1979)
Ivory and Steel (Concord, 1980)
Trio (Concord, 1980?)
Monty Alexander – Ernest Ranglin (MPS, 1981)
Fingering (Atlas, 1981)
Look Up (1982)
Overseas Special (Concord, 1982)
Triple Treat (Concord, 1982)
Duke Ellington Songbook (MPS, 1983)
Reunion in Europe (Concord, 1983)
Full Steam Ahead (Concord Jazz, 1985)
Threesome (Soul Note, 1985)
Friday Night (Limetree, 1985)
Saturday Night (Limetree, 1985)
Triple Treat II (Concord Jazz, 1987)
Jamboree (Concord, 1988)
Triple Treat III (Concord Jazz, 1989)
The River (Concord Jazz, 1985)
Carbbean Circle (Chesky, 1993)
Maybeck Recital Hall Series, Vol. 40 (Concord Jazz, 1994)
Steamin' (Concord Jazz, 1995)
Yard Movement (Island, 1995)
To Nat with Love (Mastermix, 1995)
To the Ends of the Earth (Concord Picante, 1996)
Echoes of Jilly's (Concord, 1997)
The Concord Jazz Heritage Series (Concord, 1998)
Stir It Up – The Music of Bob Marley (Telarc, 1999)
Ballad Essentials (Concord Jazz, 2000)
Island Grooves (Concord Jazz, 2000)
Monty Meets Sly and Robbie (Telarc, 2000)
Goin' Yard (Telarc, 2001)
Many Rivers to Cross (Meldac, 2001)
Caribbean Duet (Sound Hills, 2001)
My America (Telarc, 2002)
Li'l Darlin (Absord, 2003)
Steaming Hot (Concord, 2004)
Zing (BMG, 2004)
Rocksteady (Telarc, 2004)
Live at the Iridium (Telarc, 2004)
Jazz Calypso (JVC, 2005)
Concrete Jungle: The Songs of Bob Marley (Telarc, 2005)
The Way It Is (, 2006)
Impressions in Blue (Telarc, 2008)
The Good Life: Monty Alexander Plays the Songs of Tony Bennett (Chesky, 2008*)
Solo (Jeton, 2008)
Calypso Blues: The Songs of Nat King Cole (Chesky, 2009*)
Uplift (Jazz Legacy[8], 2007–10)
Love Me Tender (Venus, 2010)
Harlem-Kingston Express (Motéma, 2011)
Uplift 2 (Jazz Legacy, 2013)