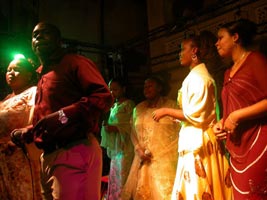 Established in Dar es Salaam during December 2006, Jahazi Modern Taarab group is currently the leading taarab group in Tanzania with more fans than any other. Their success story can be attributed to Mzee Yusuf the manager and owner who is also one of the pioneer musicians of the modern taarab style. Mzee teams up with his sister Khadija Yusuf another very popular taarab singer in Tanzania. Both artists built their reputations and international fame with Zanzibar Stars Modern Taarab.
Modern taarab is a style which gained popularity in the late 1990s by some taarab musicians who were trying to find a way of building a new generation of fans. Unlike in traditional taarab this modern version where most of the music comes from keyboards rather than real instruments allows fans to 'get up and dance'. Most of the songs are about how one boasts of enjoying his or her love life. Modern taarab groups are often in the headlines and have attracted criticism for promoting hatred and jealousy especially among women.
'To avoid being misunderstood we decided to write songs which speak about realities in love life like how to mend broken affairs as well as unifying and strengthening relationships' claims Mzee Yusuf explaining that his modern taarab style does not promote hatred.